If your law firm hasn't yet invested in content marketing, you've likely heard that you should be! Content marketing for law firms involves creating and sharing content for free to attract people and businesses to your law firm. It has become an almost unavoidable marketing strategy in 2022. In fact, 66% of marketers expect their content marketing budget to increase more this year than in 2021.  
In this extensive guide, we are going to delve into the intricacies of content marketing for law firms. We will demystify how, when, and why creating content will benefit your law firm.
What is content marketing for law firms?
Content marketing for law firms, in broad terms, involves sharing written, visual, or video content for marketing purposes. Often, the content shared will be used to build trust, increase the overall value of services, or improve search visibility. There are many different types of content that can be used to market law firms, so you're certain to be able to find a marketing medium that plays to your strengths and availability.  
Does content marketing work for law firms?
Content marketing is used as part of the process of attracting customers to your website or social media. It achieves this by creating and publishing content that appeals to the audience. The content might answer a question they have, solve a problem, entertain or persuade them, or pique their curiosity.
Additionally, content marketing can help your law firm:
Attract new clients.   

Nurture existing clients.   

Pre-empt common questions – thereby reducing the time your lawyers spend answering them.

This

free

s

them up to focus on more meaningful client work.   

Increase the perceived value of your services.   

Streamline your client onboarding.   

Increase your SEO and search engine visibility.   

Rank higher on Google and other search engines.   

Position your law firm as trusted and reputable.   
Developing a Content Marketing Plan 
Content marketing for law firms can be broken into broad six elements:  
Content marketing strategy for law firms.

Creating content marketing for law firms.

Publication of marketing content for law firms.

Distribution of marketing content for law firms.

Monitoring the performance of marketing content.

Reviewing and refreshing existing content marketing materials.
When law firms (or their outsourced marketing providers) build out a roadmap to implementing these five elements of content marketing, they have developed a content marketing plan.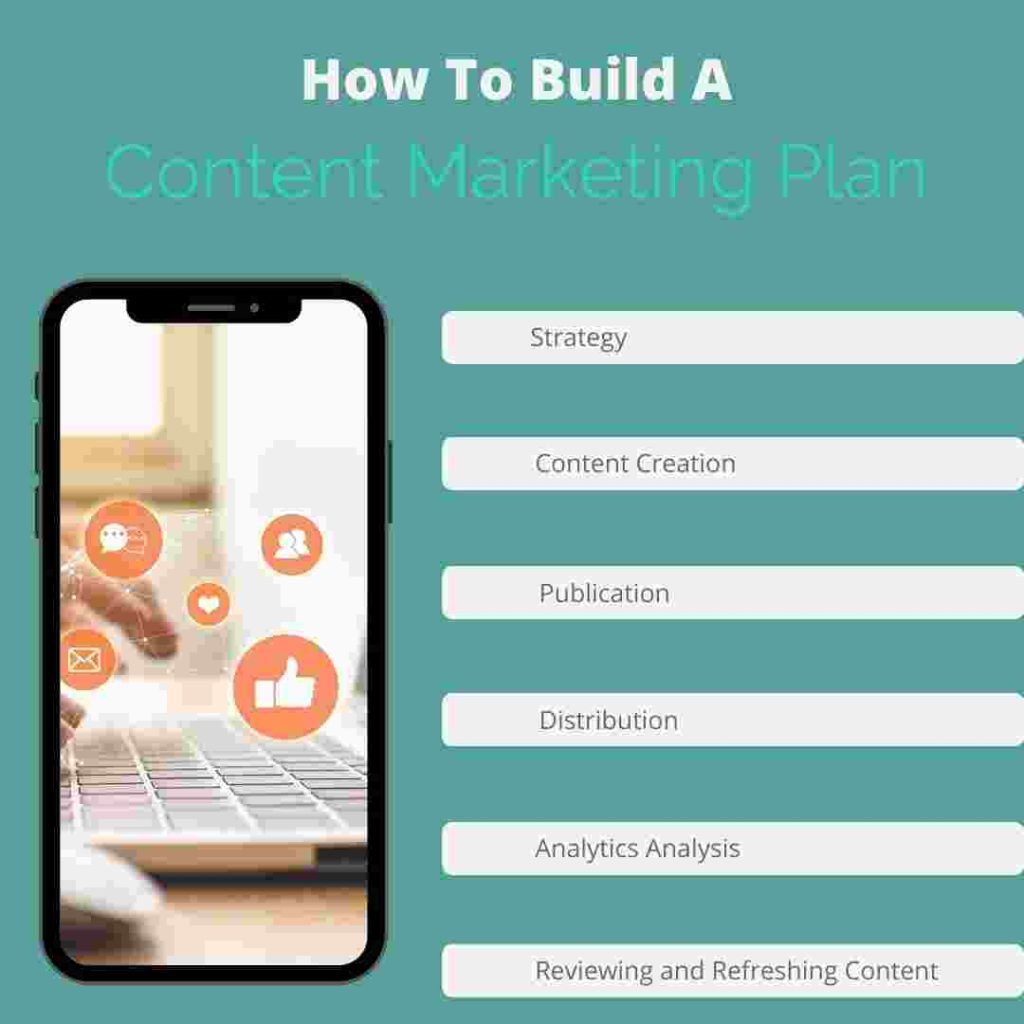 Developing a content marketing strategy for law firms.
There are five steps law firms must take to develop a robust, long-term, strategic content marketing strategy for law firms:
Establish a target audience
Generally speaking, there are three audiences law firms may target:
Individual lay readers. Business-2-Customer (B2C) law firms that work with individuals, such as immigration, family,

and

(many) property law firms fall under this category.  

Business owners, executives, and entrepreneurs. B2B law firms, such as those offering corporate and commercial services, fall under this category.  

Referral partners. Almost all law firms can benefit from referral partners, and you can use content marketing to appeal to these potential referral partners. 
With your audience in mind, it's then a good idea to build out a customer profile (or profiles) and buyer personas to round out your target audience strategy. Developing your customer profiles and, ultimately, buyer personas helps your law firm to ferret out qualified leads from those that don't fit your company goals. It also helps you to generate content that really tackles their pain points and problems. This is really the goal of your content marketing strategy.  
Consider what content will appeal to your law firm's 'buyers'.
With your buyer profile in mind, consider how this audience typically consumes information online. Depending on who they are, you can make educated guesses about the way they use social media and look for information through search engines to work out what type of content you should be creating.
If you have Google Analytics data available, you can also consider how you've typically 'acquired' visitors. There's no point reinventing the wheel if you already have a steady flow of traffic. Instead, you should focus on improving your existing content and creating more of what your users are looking for.  
Research your keywords (for SEO).
Offline, keywords are important words that hold the key to understanding something. Online – and in SEO – keywords (and key phrases) are what users search for to find information.
For instance, if you were to seek more information about keywords in SEO online, your search progression might look like this:
"What is a keyword SEO"
"How to do keyword research for SEO"
Then, finally, "Keyword research tools SEO".
Incredibly, if you want an article you write and publish to rank highly on Google, you would (often) need to write and publish a different article optimised for each of those specific searches. So you'll need to undertake keyword and key phrase research to work out which keywords to target – and when.
Remember: There are a SEO tactics that give your content a better shot at ranking for a particular keyword. For instance, you can include it strategically in your HTML headings and meta description.  
Consider the marketing funnel.
It's important that you consider the marketing funnel at both the strategy and content creation part of your journey.  
The marketing funnel is a visual representation of the buyer's journey. It shows what your buyers will consider when determining whether to retain your law firm. Different types of content appeal to buyers at different stages of their buying journey. So, it's important that you have content that appeals to your ideal buyers across all stages. Ideally, the content should be packaged to be delivered in a persuasive order, too.  
When you develop your content marketing strategy, you should be sure to consider which stage of the funnel the keywords you're targeting relate to. Be sure to match the keywords you uncover with content targeted to that stage of the buyer's journey during your planning process.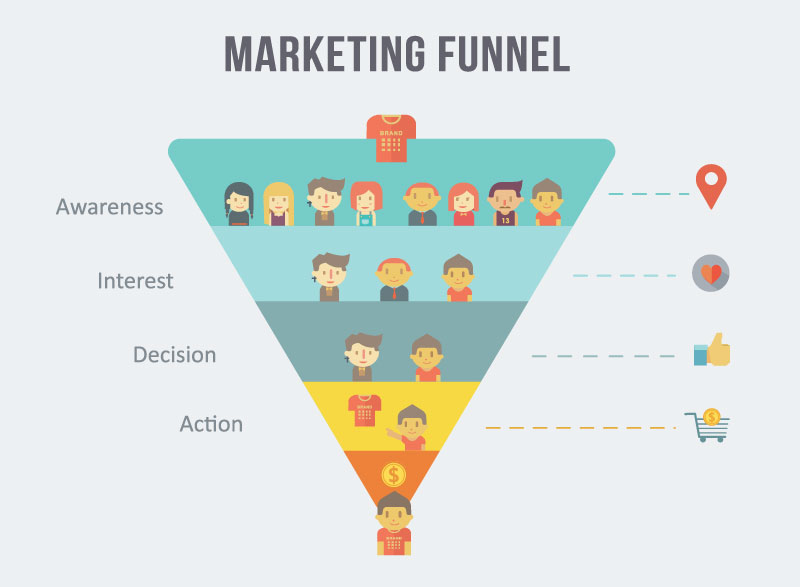 Create a content calendar for your law firm.
A content calendar outlines who should be drafting what content and when. It should include precise details about:
The topic,

The type of content being created,

Deadlines,

How the content will be distributed, and

Information about where the content fits in your law firm's overall strategy.
Law firms are typically better placed to meet their marketing objectives if the content they publish is planned. The planning is usually completed months in advance.  There are a host of benefits that come with creating a content calendar, including:  
It allows you to prioritise strategic content.
The reality for most law firms is that there is always more content to create. By planning ahead, you can prioritise creating and publishing the content that will be most impactful.
It helps to ensure you never run out of ideas.
Since you've got your content mapped out for the next few months, it means you're never in the position of sitting down at your computer and not having anything to write.
Stay on budget.
When you know what marketing collateral your law firm needs soon, and what you need in the future, you can better allocate resources to your marketing.
Creating content marketing materials for law firms.
By the time you sit down to write, you should know what topic you're covering, what the keywords are, where the content will be published, and how the content will be distributed. All that's left is to write, right?
Well, not quite – and especially not if you're writing a blog post (which is what we'll focus on here).  
First: conduct competitor analysis.
Your first step when writing a blog post is to work out what you need to do to (hopefully) outperform your competitors.
To do this, you should run a Google search for the keyword you're hoping to target with this blog post. Click on the first few blog posts and read the content they've published. Take note of the headings you see, as well as how long the posts are.  
At this stage, you should also take note of the "People also ask" results on Google, since those can help you come up with ideas to cover in your post.

Next: create a strong outline.
Then, develop an outline for your blog post. You should brainstorm some titles, and pencil in an outline – including all the headers you'll use throughout the post. Try to plan your post so that it will be longer than your competitors' posts on the same topic.  
With the plan and the competitor analysis out of the way, then you can sit down and write.
While you (obviously) shouldn't try to give tailored advice to readers in the post, you should include interesting information that readers may not already know about – and that your competitors didn't cover. Originality goes a long way on the internet – particularly since many marketing agencies are employing AIs to 'write and recycle' content.
On that note, we're yet to see a good law firm blog post written by an AI. It's worthwhile checking in with any law firm marketer you engage to ensure they aren't using AI to draft their content.
Publishing marketing content for law firms.
The way you publish your law firm's content marketing collateral matters when it comes to performance over time. Some of the items you will need to consider include:
Where you're going to publish the marketing content – will it be distributed via hard copy pamphlets in your office, on LinkedIn, on your website's blog, or all of the above?

How much search engine optimization matters for your selected publishing platforms.

If you're publishing on your blog, whether to use the same verbiage for the blog post title and the SEO title.

Where are you going to source the visual elements for your content marketing materials?

Whether you wish to include an audio version of the content for accessibility.
Publishing Checklist for Law Firm Blog Posts
Here's a publishing checklist for law firms publishing blog posts on their websites:
SEO Title is less than 60 characters long (This is easy to achieve with the free WordPress tool Yoast SEO).

There's one H1 header.

You have used H2 headers to explore relevant and similar topics.
Meta description is less than 155 characters long and is inserted into the relevant area on the Yoast SEO tool.

Text is broken up with headers at least once every 300 words.

Related articles are linked to the blog post you're publishing.

A Call-To-Action and/or Contact Form is included at the bottom of the article.

List the author.
The article is sharable with click to share functionality on the page.

Relevant and engaging visuals are included.

The relevant category and tags are assigned to the post.
If you aren't sure what any items on this checklist mean, feel free to reach out to us on Instagram to clarify!  
Quick Tips for Publishing Visually Appealing Content
Include a Feature Image (at least)!
While we are seeing improvements by some firms, law firms (generally speaking) do not emphasize the visual quality of their blog posts. This is particularly true for law firms that write their own blog posts in house and do not outsource the SEO or design.
We strongly recommend including at least a feature image on the blog posts you publish. Ideally, this feature image will also appear as a banner image either above, below, or beneath the blog post title.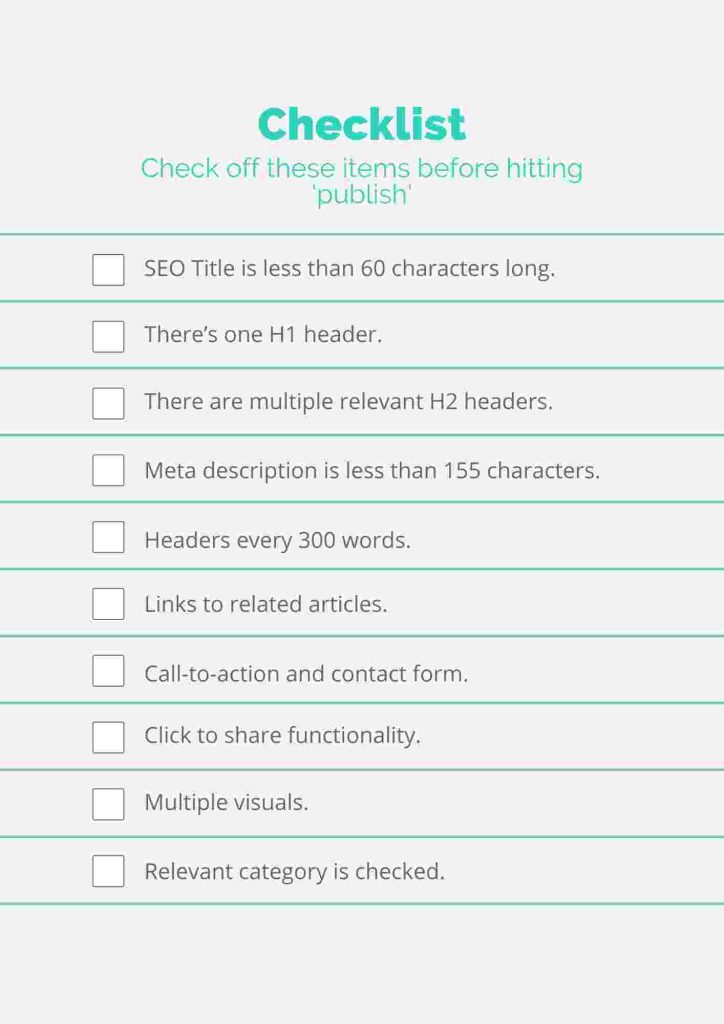 Consider Displaying Your Author's Bio and Headshot
It's fairly simple (technically) to include space for an author's bio and headshot on your blog posts. You can display it along the side (as we do), beneath the headline, or at the conclusion of the article. Though, you'll need to bear in mind that many readers may not read to the end, so they may not see it there.
If you elect to include a bio and headshot, you'd usually include the following details:
The author's name and surname. This is typically displayed in a larger and/or bold font.  

A professional, up-to-date headshot.  

A short bio. Keep it short and sweet and include a link to allow the reader to click through to their longer professional bio on a different page.  
Tip: You might consider including a carousel on their professional bio page that links to their published blog posts. This can increase their credibility, too.  
Reasons to Include the Author Bio and Headshot
There are a number of benefits that come with displaying your lawyer's bio and headshot alongside the published blog post, including:
It 'humanizes' the law firm. Adding an author bio and headshot can help readers feel that they're interacting with real human beings, not an 'entity'.

This increases credibility and trust. By putting a face beside the information, you are saying to your readers "we stand by this information."

It can help to generate rapport and goodwill before your first interaction. Readers may feel like they've already spoken with and received valuable insights from the lawyer before they even reach out. This is beneficial for any firm looking to develop and maintain customer satisfaction.
But there are reasons you might not wish to include the author on your blog post too. If you have high staff turnover, for instance, it may be better to list a more permanent fixture at the firm as the author with the junior members assisting. Similarly, if the post's focus is on the law firm, not a particular service, it may be best to not include an author and headshot.
If you outsource your content marketing, be sure to negotiate with your marketing services provider to deliver the content on a ghostwritten basis. This allows you to publish the content under whichever author you see fit, so you can prominently display your lawyer(s) as the article's author.
Consider creating unique visuals for important/persuasive information
There are easy-to-use technologies that exist that make in-house graphic design fast and convenient. At the time of writing this guide, we use Canva to create many of our visuals – like the one below.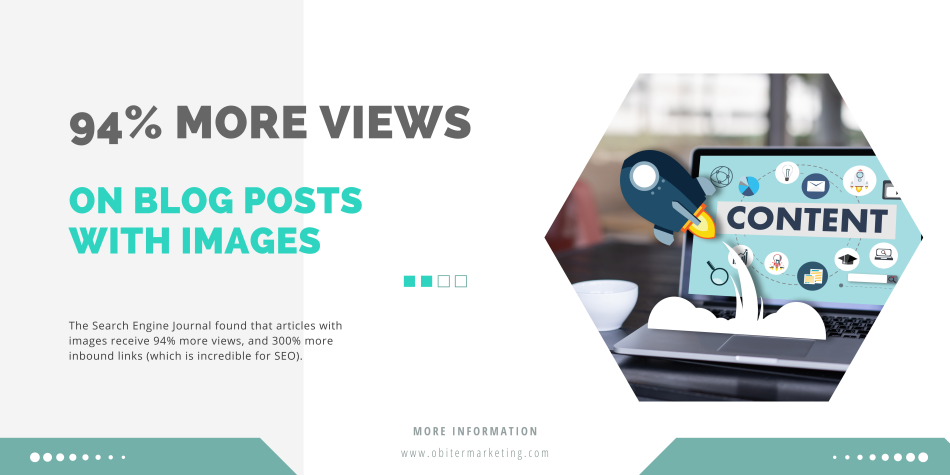 If you don't have the time, energy or passion to create these yourself, you can also use stock visuals provided by companies like Shutterstock, Adobe Pro, and countless other providers. Just bear in mind that these won't be as tailored to your opinions or your branding.
Best Practices for Visual Content in Law Firm Blog Posts
Quantity of Images
Across most industries, it's recommended that you include an image for every 150 words in a blog post. However, we don't see many law firms doing this – and it's likely that it isn't necessary for your firm to do so (though, again, you'll need to consider what your competitors are doing.
Instead what you should strive for is to ensure that readers who are skimming the text are able to glean meaning and insights from the design features – including headers, images, and bullet points. Wherever imagery can support this goal, you should consider finding and including an image.
Quality of Images
It's beneficial to avoid low quality, blurry, or unclear images. In fact, we'd suggest not including an image if the only images you have available are low quality or irrelevant. While including it may help boost traffic, it's unlikely to improve your reputation.
However, it is crucially important that the quality of your images do not impact the load speed of your website. Your law firm website's load speed is one of the most important factors search engines consider when determining rankings. If yours is slow, you'll lose traffic. It's as simple as that.
You should ask your developer to install tools that minimize the file size for uploaded imagery on your blog (and website as a whole). From there, you can further reduce the file size of quality images for blog posts by scaling them to be between 800-1000 pixels horizontally.
Distribution of marketing content for law firms.
Increasing your Google rankings takes time and effort. For most firms, it's not sufficient to simply publish a blog post and assume readers will find it. You need to have a content distribution plan too.
Fortunately, distributing your content for free is relatively straightforward and doesn't require a significant time investment.
Free Content Distribution Channels
Social Media Platforms – both corporate and the author's pages can be used to share content.

Email Newsletters.
Website and Blog.

Medium.

LinkedIn articles. (A quick note here: You can share articles both on your website AND on LinkedIn without risking your rankings. If you adopt this strategy, be sure to publish the content on your law firm's website first and on LinkedIn after Google has crawled your website. We typically wait a month out of an abundance of caution. Though, you could publish it earlier.)

Earned Media (though it can be beneficial to work with a PR firm here).
Paid Content Distribution Channels
Social Media Ads.

Pay-Per-Click Ads on search engines.

Influencer Marketing.

Sponsored Content.

Podcasting.
Podcasting can be free, however we haven't come across too many law firms with the capacity and expertise to produce and distribute podcasts in-house. Since this is most commonly outsourced, we've included this in the paid content distribution section.
Monitoring the performance of your law firm's content marketing.
Once your content is out there, it's worthwhile to monitor its performance over time. To achieve this, you'll need tools – usually Google Analytics.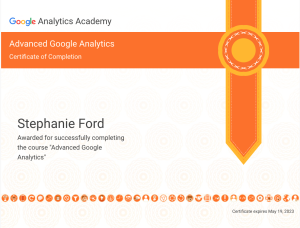 Google Analytics is an incredible tool, but it's not entirely intuitive to use. If you're opting to manage your marketing in house, you may wish to trial other tools to decode the analytics – such as Google Search Console (or just hire a Google Analytics certified marketer).
Microsoft has also published a comparable free tool for Bing, called Microsoft Clarity.
What to expect once you publish your blog post
Here's what you'd ideally expect to see for a blog post that you've published:
Within 1 week: An (small) initial spike in traffic, assuming you've shared the content on your social media channels. (We didn't in the example below.)
4 weeks: Traffic from your social media channels as well as your email marketing campaign (assuming you have one email mailout per week).  
3-6 months: An increasing number of organic search visits.  
1 year: A steady flow of visitors over time. Naturally, some blog posts are going to be more popular (and attract more visitors) than others.  

Refreshing existing content marketing materials.
The 'freshness' of your content is one of the content ranking factors that Google considers when determining where it will rank your law firm's blog posts. In fact, all things being equal, Google will rank a recently updated website higher than its less-frequently-updated competitors' sites. Consider this: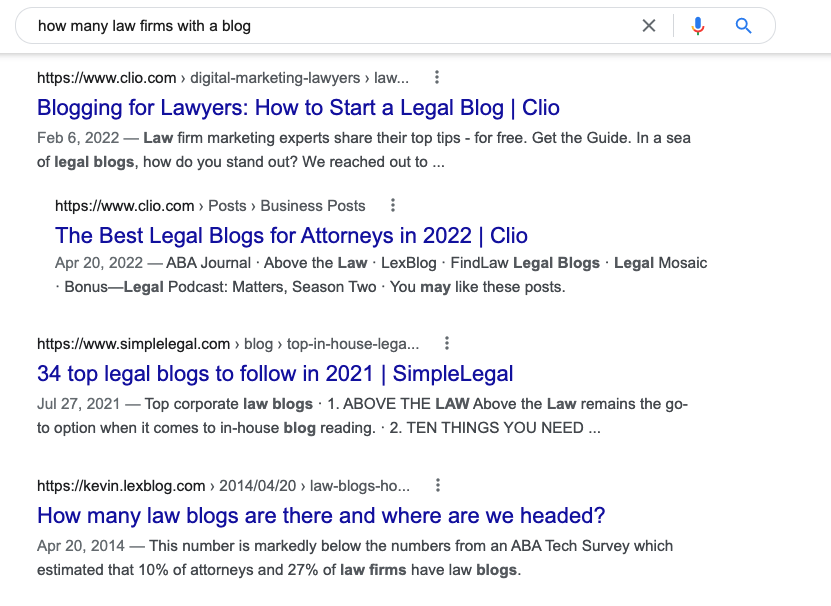 Which link would you be most likely to click on to answer your search query?
The blog post from 2014 is highly unlikely to capture the reality of how many law firms have a blog today.
So, most users would be more likely to click on a blog post published within the past year to get up-to-date information for that search term.
Google has factored this into its ranking algorithm.
If you want to take advantage of this very common browsing strategy, you should ensure that your content is updated regularly enough to remain relevant and reliable. Once you have a large backlog of content, you can focus on only updating your top performing posts and the content that's 'evergreen' (and still relevant).  
Marketing benefits of refreshing published content
Other marketing benefits of updating your existing law firm blog content include:
Attract new viewers with helpful resources without needing to invest the time and money or effort into creating something from scratch. 

R

eview your links to ensure that any websites you've linked to remain reputable and aren't potentially damaging your rankings.  

Link to more recent posts on your blog (which provides a better experience for your users).  

Other websites may 'discover' your content and link to it.  

This practice also provides a valuable opportunity to embed recent video or social media content you've prepared, to further increase the performance on those platforms and the credibility of your law firm.  

And, to reiterate, search engines may rank your writing higher. Priority is often given to content that has been published recently. 
Content Marketing Writing Tips for Lawyers
Choose Content Marketing That Plays To Your Strengths and Resources.
There are many common types of content marketing, and they all have benefits and drawbacks for users. But, it's also important to consider how the types of content marketing collateral you choose will impact your law firm – in terms of how long it takes to develop, edit, and share it.
Some types of content marketing are more easily able to be outsourced than others, for instance. By developing a content marketing plan that allows you to outsource your content marketing, you can free up time to focus on more valuable tasks (that directly generate revenue).
Some common types of content marketing that can be outsourced include:
Blog posts for law firms.
A blog is a style of website (or part thereof) that discusses discrete topics in separate blog posts. Each blog post offers information that attracts and informs the reader.
Usually, the content is presented in a specific order: the latest content appears before older blogs. But this isn't always recommended for law firm blogs, particularly law firms with multiple practice areas. Instead, legal blogs should be carefully categorized and should be searchable via those categories. This makes it easier for your clients to find the content relevant to them.
Blogging is about building connections and creating communities. For law firms, each blog post offers an opportunity to inform, engage, and delight existing and prospective clients. This can be a significant competitive advantage, resulting in more leads and more referrals.   
Benefits of Blogging for Law Firms
Some of the other business benefits of including a blog on your law firm's website include:
Stronger brand image.

Improved customer retention and loyalty.

Increased visibility on search engines.
Law firms with blogs are more likely to be found on Google.
This is because blog posts can address the keywords and keyword phrases your potential clients are looking for in more detail. Longer content on an individual topic is more likely to rank highly via an online search.
Blog posts can drive traffic to your law firm's services pages too. The best way to go about this is to create compelling content that provides visitors with information that addresses their needs or pain points. Then, you include a call to action at the end of the blog post that directs visitors to the relevant service area and/or to other relevant content. The longer your potential clients spend clicking through your website, the better (for Google).
Email newsletters for law firms.
Email marketing is an effective digital strategy your law firm can use to connect with current clients and nurture potential clients. Well-executed email marketing helps convert prospective clients into paying clients and existing clients into high-value ones.
You can use email marketing to develop trust, create value, and start a dialogue with your subscribers. You can keep your clients updated with what's happening at your law firm – awards you've won, blogs you've published, and events you're running. It's an easy way to foster connection and keep your law firm's name in front of your audience. Of course, you can also use it to answer queries about your services to move people who are aware of your law firm through your marketing funnel.
Email Marketing in Practice
We recently published a blog post sharing our work with CGL LLP's weekly newsletter – The Weekly Brief. CGL's weekly newsletter is emailed out to more than 1,100 subscribers each week – and has been since May 2020. The weekly newsletter's performance is above industry standards, with a third-party provider commenting on the incredibly low number of unsubscribes CGL's email marketing campaigns receive each week.
The newsletter regularly generates leads and prompts new queries from existing clients. It has also helped to increase CGL's visibility online since the newsletter content is upcycled to generate weekly blog posts and video content.
eBooks for law firms
The term eBook (short for electronic book) refers to a very broad class of long-form online content. This category of content covers the electronic versions of all your favourite classics that you read on your eReader. But it also includes a growing body of content prepared by businesses (including law firms) to comprehensively cover topics for curious readers.
There are many differences between eBooks created for marketing purposes and eBooks for leisurely reading, but one is particularly significant: the price tag.
Marketing eBooks are generally available in exchange for the email address of the person downloading the content. Law firms wouldn't usually ask for monetary payment in exchange for the eBook content.  
Benefits of eBooks for law firms
Marketers are increasingly using eBooks to help law firms generate leads, build authority, and add value for current and potential clients. These eBooks cover broad topics and are built on a solid foundation of a strategy to generate clicks and rise through the Google rankings.
Another benefit is that longer content is more likely to rank on the first page of Google. So, your law firm can use the length of your eBooks to your advantage and give your content its best chance of ranking highly.
Whitepapers for law firms
A whitepaper is any report on a particular topic that is authoritative and persuasive. It carefully analyses a problem and provides practical solutions to it, as well as real-world examples. Whitepapers have proven to be one of the best ways for law firms to capture leads. It is a form of marketing that persuades clients, promotes your services, and garners Google hits.
To reap the benefits of whitepapers for business growth, the published papers should be comprehensive practical and directed toward one topic. Additionally, whitepapers are most effective when they form part of your law firm's overall content marketing strategy.
They should be well-written, well-researched, and relatively free of jargon, and they should address a topic your readers are interested in. Thoughtful design is also essential, since it can enhance readability and skimmability. Branding should be thoughtfully included, too.
Podcasts for law firms
A podcast is an audio series made available via the Internet or through streaming apps. Generally, a podcast series will explore a relevant theme. Law firms, for instance, often use podcasts to share information about the law, legal updates, and recent case outcomes with their listeners.
The hosts of the Conversations with CGL Podcast, for instance, cover key legal insights, current events, and other trending topics to help listeners navigate the dynamic business and legal landscape.
Earned media contributions/external articles.

Press releases.
Write Using Language Appropriate for Your Target Audience.
As with any content your law firm publishes as part of its marketing strategy, you need to keep your target audience in mind. You need to use language they'll understand and include information they'll find interesting to reap the results of your content marketing planning and content creation.
Referring to the three (typical) target audiences outlined above, here's what that might look like:
B2C law firms
Law firms dealing directly with lay members of the public must be sure to avoid legal jargon wherever possible – and explain it clearly and concisely wherever it's not. It's essential that any information you publish should be easily understood by readers – or it can do more harm than good.
Users who read your blog and find themselves confused or not able to easily understand the information you're sharing may not feel confident that you will provide advice they'll understand. This may cause them to move onto a law firm which achieves this in their writing.
As a result, you should publish very short sentences, using fewer than 20 words per sentence wherever possible. If there's a shorter or more common word, choose it. It's not the time or place to flex your superior vocabulary.
B2B law firms
Law firms appealing to business owners and executives should apply the same guidelines as those outlined in the B2C category above. The only major difference here is that it's acceptable to use industry jargon without explaining or defining it.
Speaking to referral partners
You want to impress upon your referral partners that you can speak clearly to their clients. Whoever your referral partners typically deal with, you should ensure your writing would appeal to them – and solves their problems.
A note about search engines and target audiences:
It's also important to keep the search engine algorithm in mind as a part of your target audience. While Google's guidelines generally suggest that you should write for the reader first and foremost, you need to consider search engine readability if you want to rank highly.
This means you must include relevant headers with appropriate HTML tags. We covered how to do this in detail in our article about SEO Basics for Law Firms.
Use a Readability Assistant While Writing and Editing.
Readability assistants are editor tools that help you to make it easier for your target audience to understand your writing. It can be helpful to use the Flesch-Kincaid reading ease score as a guide to how likely it is your target audience will understand you.
The Flesch-Kincaid Reading Ease score is linked to how difficult a text is to read. It considers sentence length and the average number of syllables in a word to score a text out of 100. The scores indicate as follows:  
Flesh-Kincaid Reading Ease Scores
90-100: Higher scores indicate a text is very easy to read. A score between 90-100 would be easily understood by an average 11-year-old reader.
80-90: A text scoring between 80-90 is considered easy to read.
70-80: Scores between 70-80 indicate that the text is fairly easy to read. It would be comprehensible for average 7th grade readers.
60-70: Texts scoring in this range are considered to be written in plain English and would be easily understood by 13- to 15-year-old readers.
Law firms using the Flesch-Kincaid Readability Score should strive to score between 60-70.
50-60: Texts scoring in this range are considered fairly difficult to read.
50 and below: Texts scoring lower than 50 are considered very difficult to read and would be understood by those with a college education. Law firms should bear this in mind, since this is the level at which many legal professionals are accustomed to reading. The average Harvard Law Review article, for example, typically has a readability score in the low 30s. This is not an appropriate level for most law firm blogs.  
Free tools to assess readability
There are (free) tools you can use to help you achieve readability scores appropriate for your target audience. They include:
Grammarly
Microsoft Word Editor
The Hemmingway App.
Yoast SEO
Make the Content Skimmable.
This is one of the biggest flaws we see in content prepared by lawyers and law firms – the content isn't skimmable.
Lawyers (often) digest work-related content in a different way to much of the rest of the world. Where lawyers focus on details and minutiae, those reading content on the internet are hoping to get as much information in as few words as possible.
The main points of your blog posts and website pages need to be easily digestible in the shortest amount of time possible.
Bullet points.

Headings – fully formed sentences.
Outsource Your Law Firm's Content Marketing with Obiter Marketing
Marketing is complex, involved, and competitive. Getting it right takes time! And for most lawyers and legal professionals, time is in short supply.
Outsourcing your law firm's content marketing saves you time, stress, and is often more cost-effective than developing content in-house. That the content is more likely to be optimized for search engine optimisation and more visually appealing are the cherries on top!