Your law firm's reputation and revenue can be improved using (strategic) marketing efforts. But the issue with marketing is that the possibilities are endless – and overwhelming. Fortunately, you can simplify your law firm's content marketing strategy by conducting a thorough competitor analysis.
What is a Competitor Analysis?
Competitor analysis helps you understand how your law firm's marketing compares to others that have the same or similar practice areas. Generally, it will consider their digital marketing efforts, including their website, social media presence, email marketing, paid and unpaid media, awards, and other websites that appear when you search for their name.
Completing a competitor analysis allows you to identify the strengths and weaknesses of your law firm's marketing strategy (and those of your competitors). It can highlight opportunities to 'fill gaps', and help you answer questions like "how many blog posts does my law firm need to publish?" and "how long should my law firm's blog posts be?".
The primary objective of a competitive analysis is to review and identify existing marketing strategies and target markets.
Which Law Firms Should Complete a Competitor Analysis?
Performing a competitor analysis is a valuable tool for law firms that want to improve their search visibility, social media presence, and website performance.
As a result, completing a competitor analysis should be one of the first steps you take when beginning any marketing campaign for your law firm.
But it's not just for new law firms.
A competitor analysis can help established law firms stay up-to-date with their competitor's social media activity and marketing strategies. And empower them to compete.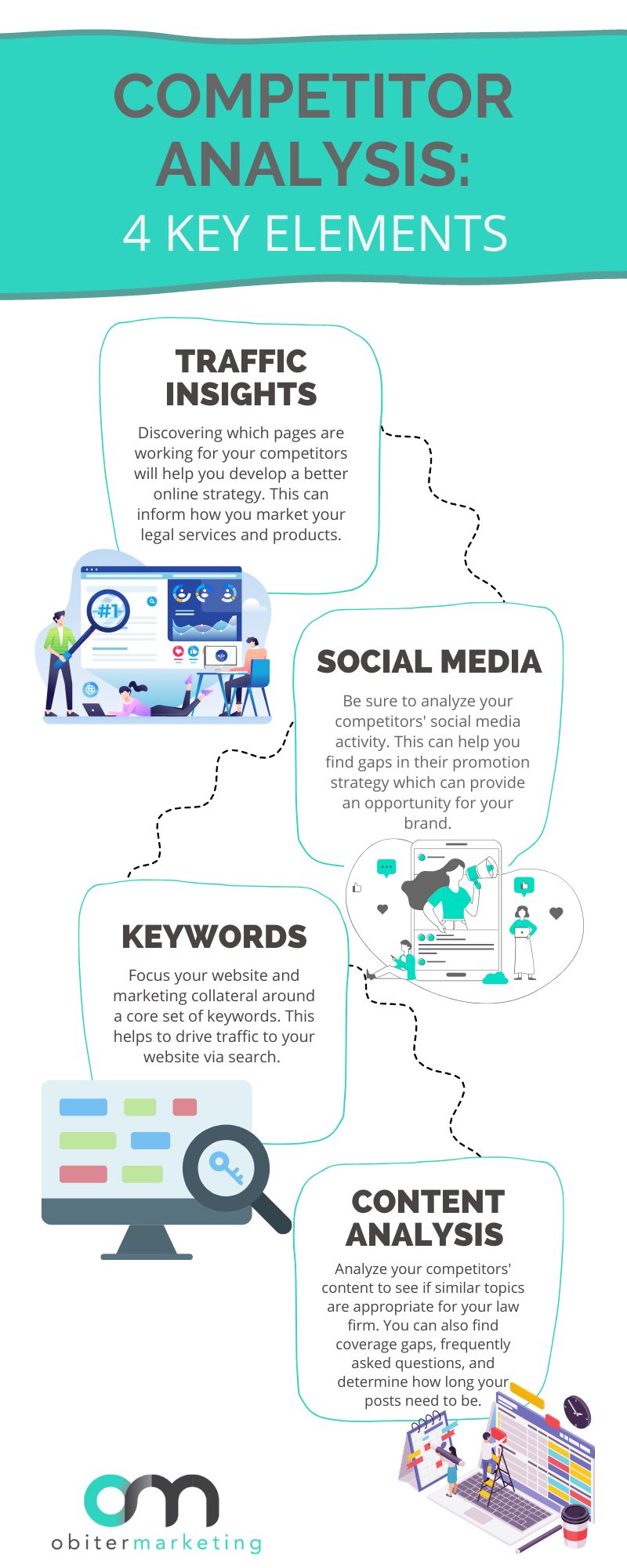 The Basics of a Competitor Analysis for Law Firms
These are the key steps to undertaking a competitor analysis:
Work out who your competitors are.

Look at their website structure.

Research their marketing channels.

Record details about their content strategy.

Analyse the performance of their marketing.

List key lessons, takeaways and opportunities based on their marketing.
Work Out Who Your Competitors Are
Depending on the size of your city, you may know who your local competitors are. But we've found that the 'online competition' results often surprise our law firm clients. Fortunately, it's simple for your firm to work out which firms are its online competitors.
You can just run a few Google searches.
You should search:
Your law firm's name.

Your law firm's practice area(s).

And, potentially, 'lawyer + your geographic location'. Usually this is reserved for generalist lawyers in smaller towns, however.
The law firms listed (organically/without the 'ad' notation beside their name) on the first page for the above search terms are usually your biggest online competitors. You should make a note of the top five to ten online competitors, since these are the firms you'll be competing against for organic online traffic.
Look at your competitor's website structure
You should take a look at your competitor's website structure and note:
Their domain authority (you can use

this free tool

to calculate it – the higher the number, the better).

The number of pages and

subpages

the law firms' website have.

Whether the competitor websites have a blog.

What their call(s) to action (CTA) or prominent offers for potential clients are.
Take note of the technologies they use
It's also important to work out what online technologies your competitors are using. A client portal, for instance, encourages users to spend longer on a law firm's website. Google uses the traffic and the amount of time users spend on a page as a ranking factor, so client portals can help a website to rank better.
So, how do you find out what technologies your online competitors use? There are many ways to get information about your competitors. You could ask them directly, or you could look at their websites, social media profiles, and even their job listings.
Research your competitor's marketing channels.
It's important to take note of where your competitors are marketing their services during your competitor analysis.
Common places to look are:
Social media channels.

Email marketing (see whether you can subscribe via their website. If you can, do so!).

Relevant publications and local news sources.

Podcasts.
It's also worthwhile keeping an eye out for their paid ads on both Google searches and across websites you view.
From there, you should analyse the type of content they publish, as well as how often they publish it.
For instance, if your competitor law firm has a blog on their website, it is best to note how often they publish a blog – and how long they have been blogging for. Similarly, if that firm publishes podcasts, note how often their podcast is published.
You should also calculate the (average) frequency of your competitor's social media posts and stories.
Assess your competitor law firms' content strategies.
With the information gathered above, you should assess your competitors' content marketing strategies.
Doing so comes with a range of benefits:
By assessing the content published by the law firms you're competing with, you can also get fresh ideas about content planning.

It will also help identify where your competitor's law firm is lacking (eg. length, quality, or regularity of their content publication). This may present easy opportunities for your firm to shine.

You may also identify content gaps that your firm can fill. For example, competing firms may not be blogging about recent law changes. This means you have an opportunity to attract the traffic looking for this information.
You can learn more about content marketing strategy in our comprehensive guide.
Analyse the performance of their marketing.
Once you have grasped the totality of their marketing efforts, it's useful to take time to analyse which of your competitor's tactics work and which to avoid.
It's relatively simple to find and analyse the performance of your competitor's social media content. You can simply take note of how many likes or views the content typically receives, as well as how many followers they have. It's useful to record this so you can compare their growth in followers and average likes to yours over time.
For other marketing channels, you'll likely need to use specialised tools. There are tools that can help you work out the average number of visitors to a webpage, for instance.
A Note About Competitor Backlink Analysis
The number of links on a website is one factor Google considers when it chooses where to rank the website. This is because Google deems links from other websites to your individual web pages to signal trust in the content. As a result, pages with more backlinks will usually rank higher on Google than pages without any.
So, a competitor backlink analysis can help you understand why your content may not be performing as well as that published by your competitors.
List key lessons, takeaways and opportunities based on their marketing
Conducting a law firm competitor analysis can help you learn about your competitors and refine your strategy. By keeping up with industry trends, growing online competitors, and meeting your clients' needs, you can find opportunities to outshine your competition online.
Obiter Marketing regularly delivers comprehensive competitor analyses for law firms. Our detailed reports identify and examine your online competitors and explore their current strategies and performance. We then go on to make a range of actionable recommendations for the short term and longer term to boost your law firm's online presence.