Google is the most widely used search engine on the planet, boasting 84% of the market share for desktop search in June 2022. Given how prominently local search results are shown on Google, it's worthwhile investing some resources in your Google Business Profile. Here are some tips to help you achieve better local SEO for law firms by mastering Google Business Profile.
What is Google Business Profile?
Google Business Profile, formerly called Google My Business, is a free business profile offered by Google. It allows businesses to share information about their business including:
Location and service area.
Hours, including holiday hours.
Phone number.
Website address.
When the business opened.
Appointment booking.
Products or services offered
Diversity information, such as whether the business is women-owned.
Accessibility.
Health and safety information.
A description of the business.
Photos of the business.
In fact, you've likely seen countless Google Business Profiles before now. They show up regularly on Google Maps and Google Search.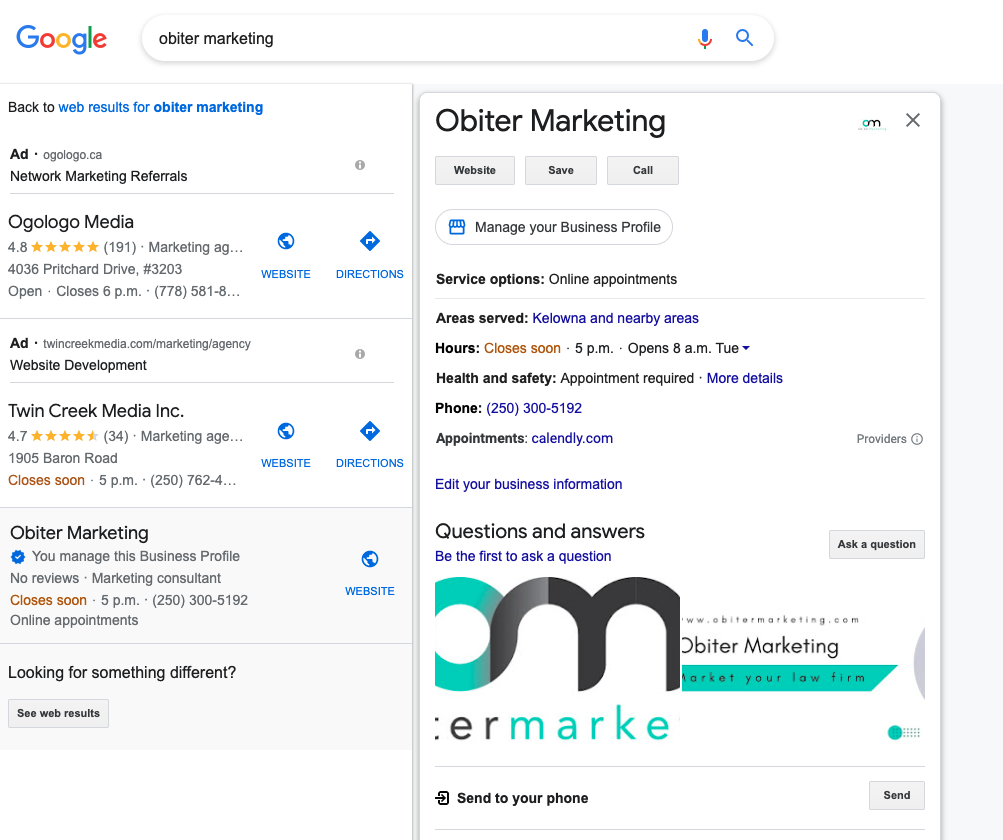 Google Business Profile: A Key Local SEO Tool For Law Firms
Google Business Profile achieves more than just sharing details about your business with potential clients. In fact, it is a key marketing tool for law firms looking to boost their Local SEO.
It comes with a suite of features that can make it easier for you to build trust, manage your reputation, and attract clients. Let's delve into them:
Google Reviews For Law Firms
Your Google Business Profile will house your (increasingly important) Google Reviews.
Online reviews have become essential for businesses operating in the online marketplace. They provide social proof to potential customers who might not be familiar with a brand, showing that a company can be trusted. Law firms that offer B2C services are no exception to this rule. In fact, a survey of 1000 US residents by Findlaw revealed that 81% of millennials would prefer to hire a lawyer with online reviews.
Given that reviews can be relatively easy to source, seeking customer reviews is an easy way to establish trust and gain a competitive advantage in the online space.
Read our coverage detailing how to get online reviews for law firms. This is key because your review rating may not show up on your Google Business Profile until you have at least 5 reviews.
Connect With Potential Clients
Google Business Profile offers multiple ways for law firms to connect with potential clients. Via the platform, you can:
Create and Share Posts on Google Business Profile
You can create and share posts on your law firm's Google Business Profile much like you would on LinkedIn, Instagram, and Facebook. It's a space for you to share announcements and news. In turn, this may help you to improve your customer experience, easily promote sales or new services, and engage with a wider audience.
How To Create a Post on Google Business Profile
When posting, you must categorize them as being a:
COVID-19 update
Offer
What's new
Event
Product.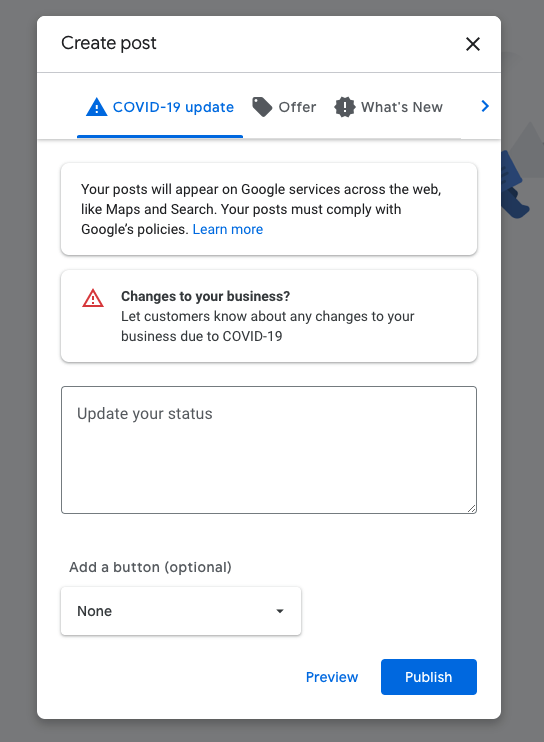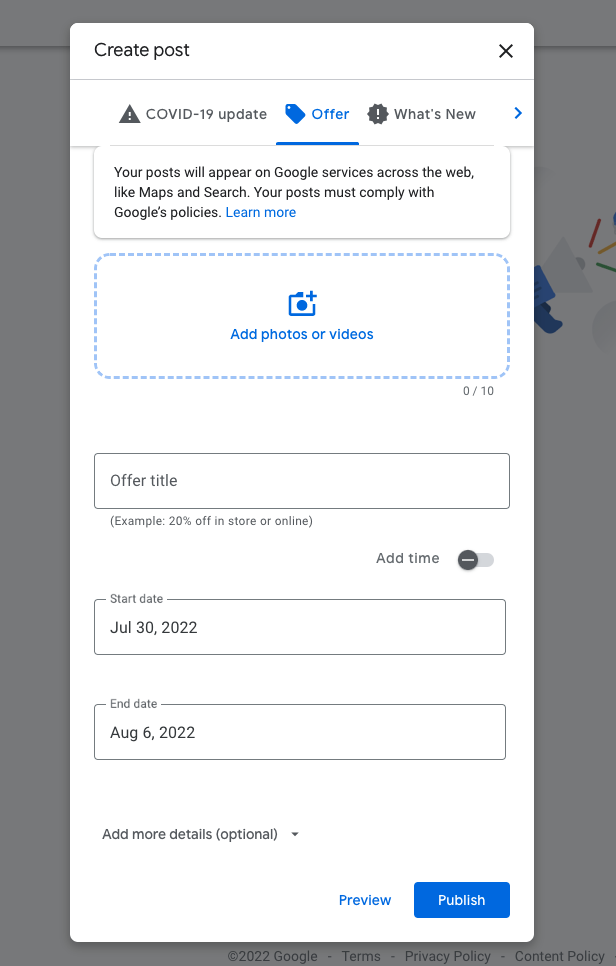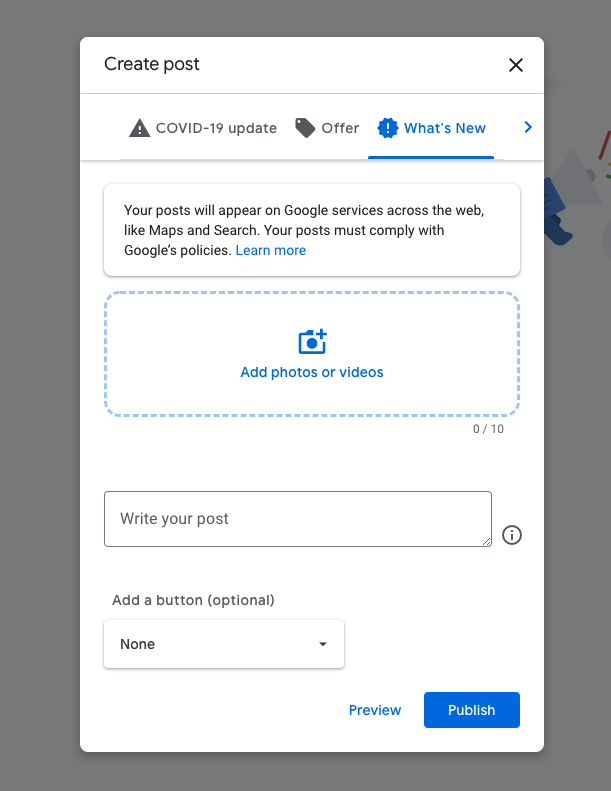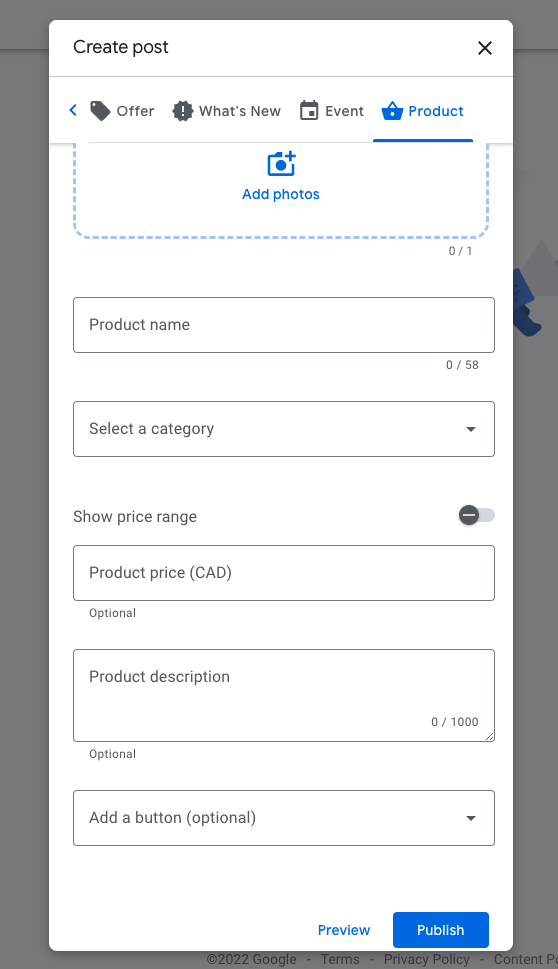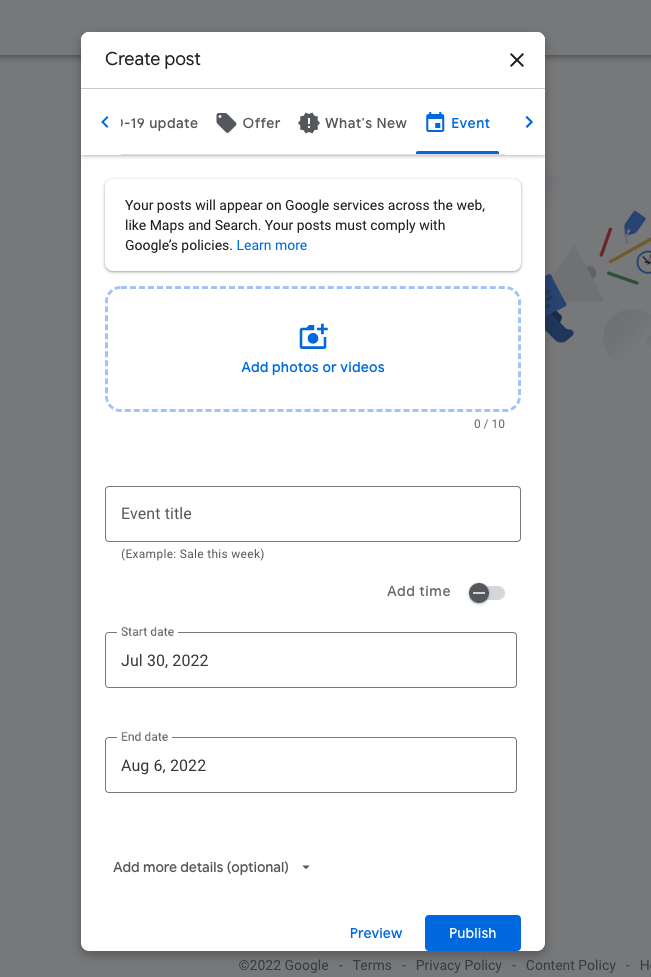 As you can see, the specific information and visuals you share varies depending on the category you select. However, you should ensure that all posts are high-quality, accurate, and informative. Internet users expect a seamless experience, so any posts should include all the information they need to determine whether to click through to your website.
These posts appear on Google services across the web, including on Google Maps and Google Search.
For more information about Google Posts.
Respond to Reviews
Your law firm should respond to every review it receives – even the positive reviews.
It's also important to remember that bad reviews aren't always bad news. In fact, we'd argue that negative reviews should be seen as an opportunity.
They're an opportunity to reflect on what went wrong. And they're an opportunity for you to show potential clients how you manage dissatisfaction.
Here are some tips for responding to negative reviews:
Respond thoughtfully – & take some time off before responding if the review evokes an emotional response.
Don't blame the reviewer – trust us, it seldom reflects well on the responding business.
Send an olive branch in your response. You don't always need to offer to fix it for free, but you should state that you're available to chat about the issue further, if they'd like.
Send and Receive Messages Directly
You can send and receive messages directly through your Google Business Profile, just as you would on Facebook or Instagram. Law firms can respond to messages on their desktop computers or mobile, so long as they have access to the Google Business Profile.
When deciding whether to accept messages via Google Business Profile, it's important to (realistically) consider how long it will take you to respond to the messages. Users expect a prompt response. So, if you don't think that you can realistically get back to the user in under an hour in most cases and, ideally, instantly, it may be worthwhile leaving chat turned off.
That said, adding chat functionality and prioritizing it in your marketing could be a true differentiator for your law firm. Law firms have been slow to adopt live chat as a communications method.
Receive Calls
If you provide a phone number for your law firm, then potential clients will be able to call your firm directly from Google Search or Google Maps. You can see your call history on your Google Business Profile.
Respond to Frequently Asked Questions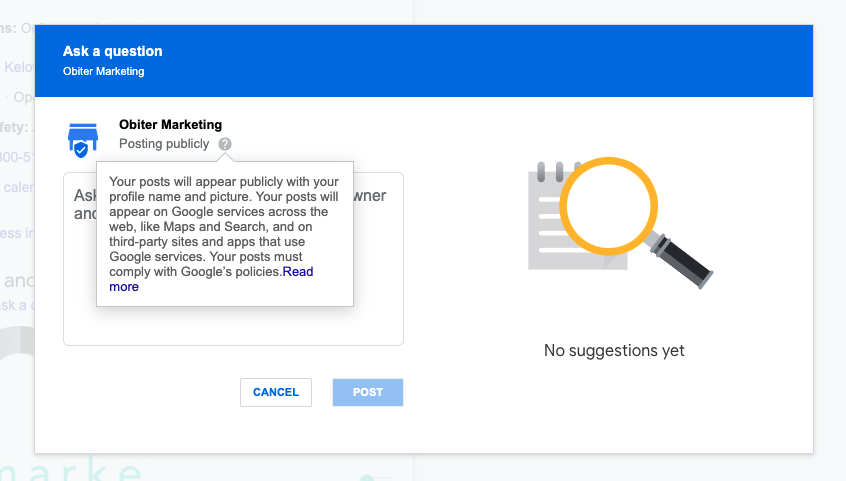 Potential clients can "Ask a Question" when they click on your Google Business Profile. Your law firm should respond to any and all questions asked via your Google Business Profile. Again, potential clients will consider your responses to these queries when weighing up whether to choose your law firm. It is essential that you communicate respectfully at all times on your Google Business Profile, and that you provide the information requested in a timely and accurate way.
Best Practices for Law Firms Using Google Business Profile
Here are some quick best practices for law firms to adopt on their Google Business Profile:
Keep your information up to date, including open hours.
Link to your online booking system, if possible. Most law firms do not offer online bookings, so it's an easy way to differentiate your firm from your competitors.
Consider including information about fixed fee pricing you offer on your product page. Again, few law firms offer pricing transparency, so it's another way you can differentiate your firm from other local firms.
Treat every incoming query via your Google Business Profile as an opportunity to attract that potential client and others. Your public communications with others will be used by future potential clients when they're considering whether to engage or even contact your law firm.
Google Business Profile Management for Law Firms
Obiter Marketing offers a suite of Google Business Profile Management services for law firms looking to boost their local SEO.
Get in touch to find a plan that suits you! They start from just $75.