Digital marketing is a powerful tool for immigration lawyers and consultants. Hopeful immigrants around the world are seeking out assistance, and they'll only turn to your law firm if they find you online or if they have a friend (who likely found you online). Search Engine Optimization – or SEO – for immigration lawyers is a key strategy that can help your law firm appear on search engines near and far.
What is SEO?
SEO – or search engine optimization – is the process of adding, updating, changing, and improving aspects of your law firm's website to improve the likelihood of it ranking higher on search engines. It encompasses any efforts made to appeal to the search engine algorithms and the factors they weigh up when determining how to rank a website for any given search term.
The ultimate goal for search engine optimization efforts is to increase your visibility for:
Particular search terms.
Your law firm content.
There are a wide range of techniques you can use to achieve this, ranging from taking a deep dive into technical factors like page load speed to publishing long-form content highly targeted towards a particular keyword.
Generally speaking, your law firm's visibility will increase when you use a combination of techniques to increase your rankings over a longer period of time. SEO is not a short-term marketing strategy. If you need something that will take effect today, you'll need to look to pay-per-click advertising.
SEO For Immigration Lawyers
So, how can immigration lawyers and service providers improve their results on search? Broadly speaking, there are three steps to improving your SEO:
Understanding the different types of SEO,
Assessing the competition, and
Creating and implementing a plan to improve in each area.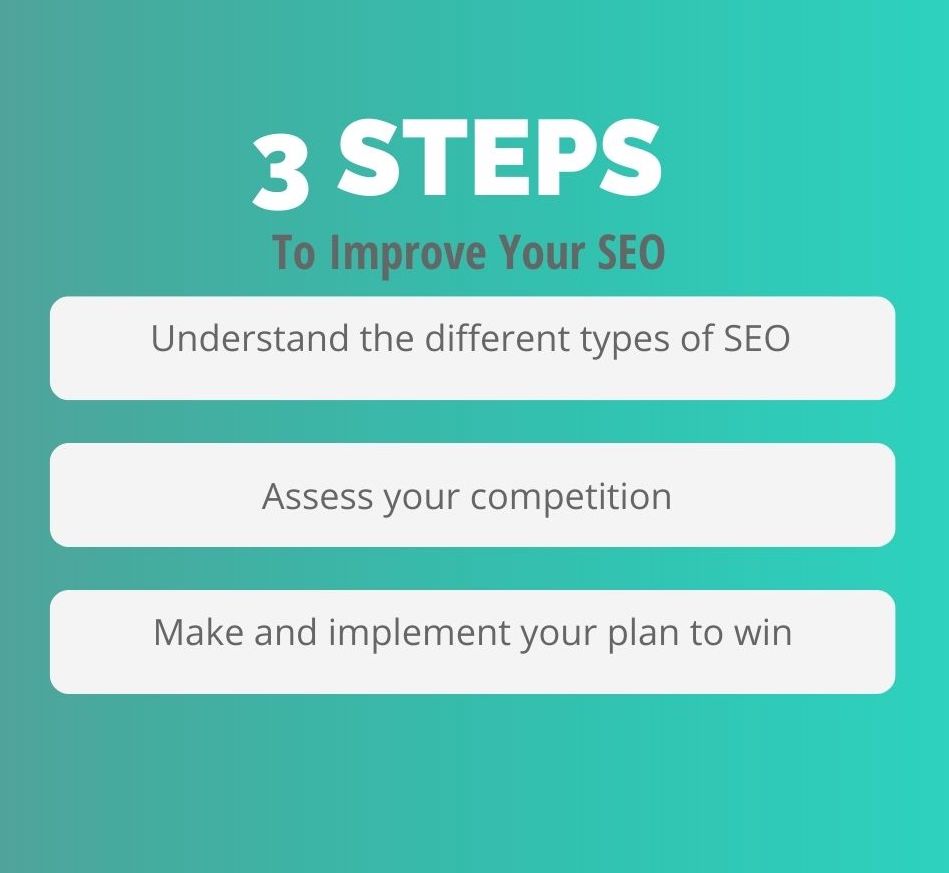 What are the Different Types of SEO?
There are four different types of SEO that immigration lawyers can take advantage of: local SEO; on-page SEO; off-page SEO; and technical SEO. Unfortunately, none of the work you complete in SEO will be truly effective unless you achieve at least good practices in each area.
The four different types of SEO for immigration lawyers are:
Local SEO
On-Page SEO
Off-Page SEO
Technical SEO.
Local SEO for Immigration Lawyers
Local SEO can help your immigration law firm get more clicks whenever potential clients search "Immigration lawyer near me" or "Immigration lawyer [YOUR CITY HERE]".
There are two strategies you can use to improve your law firm's odds of ranking for local search terms:
Improve your law firm's Google Business Profile.
Target keywords related to your region, town, or suburb on your website.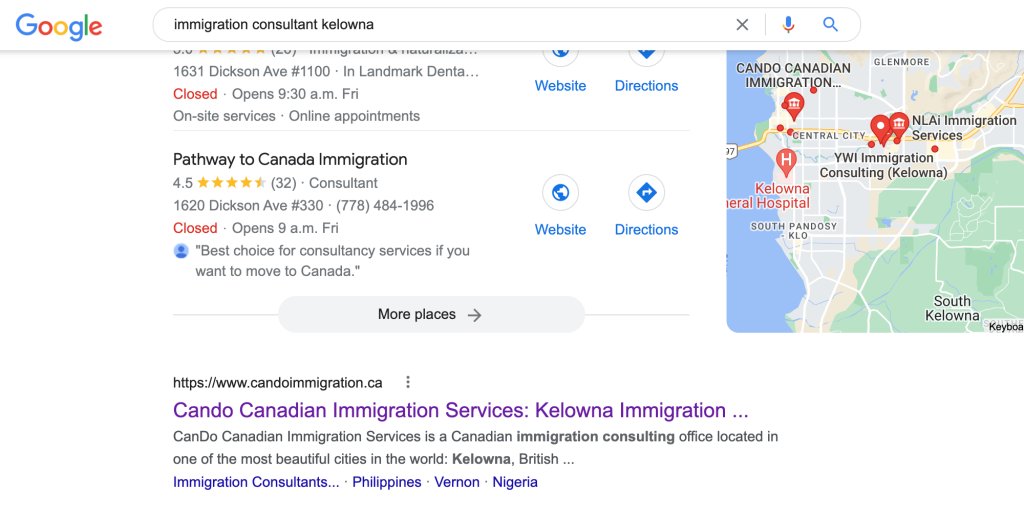 Improve Your Visibility With An Optimized Google Business Profile
Your Google Business Profile shows up on Google Maps whenever potential clients search for businesses in a certain area. And there are steps your law firm can take to rank higher for searches that show businesses on Google Maps.
Here are some quick best practices for law firms to adopt on their Google Business Profile:
Keep your information up to date, including open hours.
Link to your online booking system, if possible. Most law firms do not offer online bookings, so it's an easy way to differentiate your firm from your competitors.
Consider including information about fixed fee pricing you offer on your product page. Again, few law firms offer pricing transparency, so it's another way you can differentiate your firm from other local firms.
Treat every incoming query via your Google Business Profile as an opportunity to attract that potential client and others. Your public communications with others will be used by future potential clients when they're considering whether to engage or even contact your law firm.
Getting consistent reviews for your law firm or immigration consultancy is also important for your ranking on the Google Map.
Rank for Search Phrases Containing 'Local-Intent'
A few years ago, we would have suggested creating a blog post containing the phrase 'near me'. Title suggestions might have been "What to look for when choosing an immigration lawyer near me" or "Why choosing an immigration consultant near me is better".
As you can see, these titles are awkward – but they were previously very effective. Today, these titles are still effective for ranking higher on search engines with less market share – like Bing. They do not perform well on Google.
If you're looking to optimize for Google, it's better to write and publish blog posts or webpages that contain your location.
Curious about whether this works for targeting other locations, too? That will depend on the competition locally. If your immigration law firm or consultancy is in a region dotted with smaller towns, you may be able to rank in each town using this tactic. It will be far more difficult to 'win' using this tactic for major cities, due to the increased competition.
On-Page SEO for Immigration Lawyers
On-Page SEO refers to any actions you can take on your website pages to improve your rankings on search engines. It can be as simple as using headings more effectively, through to writing compelling copy for your site.
Here's what On-Page SEO typically encompasses:
Headings – from a single H1 heading to multiple H2s and the H3-H6s beneath, your headings should be relevant and make your content easy to skim read.
Meta descriptions.
Optimised images.
Site content quality and quantity.
Internal linking – to improve navigability.
If you know what all these on-page elements are, you may notice a recurring theme here: User Experience.
The search engine business model is based on users making a search and getting value from the websites that the search engine delivers. So it makes sense that search engines want to show users' websites they will love and get value from.
If your law firm's website doesn't function well and doesn't answer the key queries your potential clients might have, then it is susceptible to falling behind. Conversely, law firm websites that prioritise the user experience and pre-empt their potential clients' queries will likely see more traffic, more leads, and more revenue from their site.
The other key theme is relevance. Your content must be relevant to the search term for Google or any other search engine to decide to show it. You create relevant content by knowing and understanding your target audience and pre-empting their questions and concerns.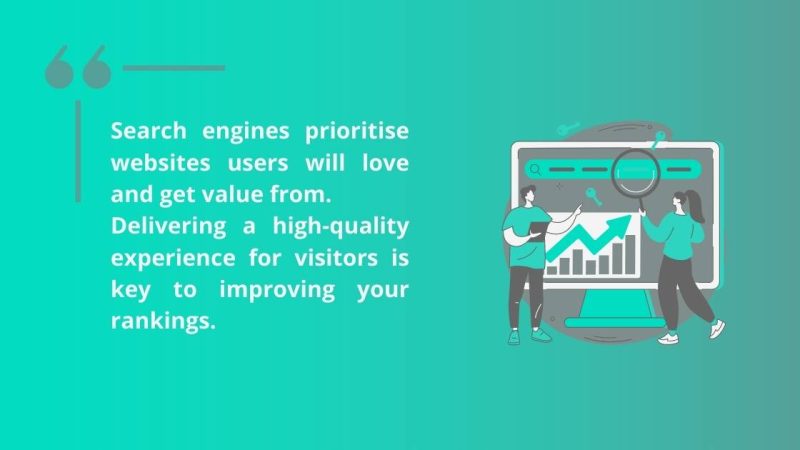 On-Page SEO Elements Immigration Law Firm Websites Should Implement
In our opinion, most (if not all) immigration law firm websites should have the following pages and functionality to pre-empt common queries from their clients:
Subpages containing information about each visa stream. It's not enough to simply have a home page, images of your immigration experts, and a contact form. You should create separate subpages with information, and potentially even helpful guides, about the immigration process and timeline for family, economic and skilled, student, and other categories of visa and work permit.
Infographics or other visual elements that show the immigration process, including where your immigration lawyers can add value.
Information about common pitfalls and mistakes applicants make when they apply for permanent residence or work permits without professional assistance.
External links showing that you are a registered professional (since scam providers are rife in the industry).
Blog posts and/or guides with information and resources.
Off-Page SEO for Immigration Lawyers
Off-page SEO is any external activity that refers to your law firm's website. The most well-known (and powerful) off-page SEO element is called backlinking.
Backlinking is any action where a website other than your own links directly to your website. These links act as a signal to Google that the content your website contains is trustworthy and delivers value, which makes it more likely Google will rank your website higher for relevant searches.
These external links can come from social media posts referring to your content, other websites linking to your blog posts, local business directories listing your law firm, and magazines or other publications citing you as an expert.
Off-Page SEO Opportunities for Immigration Lawyers and Consultants
Common off-page SEO opportunities for immigration services provides include:
Links to your website from the College of Immigration and Citizenship Consultants or Local Law Society (in Canada) or relevant body elsewhere in the world.
Backlinks from news publishers who have featured your clients' stories.
Businesses who use your corporate immigration services.
Professional bodies or communities, like the CILA (Canadian Immigration Lawyers Association).
Social media shares.
Technical SEO for Immigration Lawyers
Technical SEO considers how well your website functions.
Best Practices for Technical SEO
Here is a list of best practices for technical SEO:
Your site should load in 2.5 seconds or less.
You should have a site map (check yours for free here).
Your URLs should contain relevant keywords and be about 70 characters long.
You should not have much duplicate content and no duplicate pages.
Your links should all function well and they should be relevant.
You should have a valid SSL Certificate.
Need Help With SEO for Your Immigration Law Firm?
Let Obiter Marketing take care of steps 2 and 3 for improving your immigration services SEO: competitor analysis and implementing an action plan. We offer a free SEO and competitor analysis that will contain action steps you can implement yourself and a marketing plan.
If you don't have the time or expertise to implement it, our team can handle that too.
Reach out for stress-free SEO services.