Improve Your Law Firm Website Rankings by Mastering These SEO Basics
When it comes to getting found on search engines, you have two options: SEO or pay-per-click advertising (PPC). The best option for law firms looking to start getting found by users searching for legal representation is to do both. PPC is a highly effective short-term strategy, but the benefits of PPC advertising stop as soon as you stop spending money on the ads. SEO, on the other hand, is a highly effective long-term strategy that can produce results for years to come. However, it too can be expensive for growing law firms. In this post, we'll outline the SEO basics for law firms looking to produce effective content in house.
What is SEO?
SEO, the acronym for search engine optimisation, is a very short term for an incredibly complex mechanism. In essence, SEO encompasses any efforts made to appeal to the search engine algorithms and the factors they weigh up when determining how to rank a website for any given search term. The ultimate goal for search engine optimisation efforts is to increase your visibility for:
Particular search terms.
Your law firm content as a whole.
There are a wide range of techniques you can use to achieve this, ranging from taking a deep dive into technical factors like page load speed to publishing long-form content highly targeted towards a particular keyword.
Generally speaking, your law firm's visibility will increase when you use a combination of techniques to increase your rankings over a longer period of time. SEO is not a short-term marketing strategy. If you need something that will take effect today, you'll need to look to pay-per-click advertising.
Is SEO Different for Lawyers and Law Firms?
(As far as we know) search engine algorithms don't treat law firms or law firm rankings differently from other industries. They will still weigh the factors they've deemed important and rank the available content based on how well the content appeals to those factors.
This means that marketers, particularly those with experience in SEO, are able to advise and guide law firms about SEO factors without experience within the law industry generally. Where legal industry
knowledge comes in handy is generating content that explains jargon and legal concepts well – which is important for the end-user, not the search engine algorithm.
That being said, finding an SEO marketer with experience assisting law firms is still beneficial. They are more likely to be aware of the pain points and challenges law firms face in marketing their services and how to overcome them.
How Does Google Determine Rankings for Law Firms?
Google has thousands of engineers working on its mission to 'improve the usefulness of your results'. The algorithm is constantly being changed (much to the chagrin of SEO writers) and, in addition to the changes on Google's end, the behaviour of your website's readers can also impact your rankings week-to-week.
The point is: The volume of factors that impact your search engine rankings (on Google and all other search engines) is staggering. Keeping up with these changes would be a full-time job for hundreds of specialist marketers, which is not an expense most law firms could or would justify.
Instead, law firms should focus on stripping SEO back to its basics. At its very core, Google considers 3 factors in determining its rankings. They are:
Crawling.
Indexing.
Serving (and Ranking).
What is Crawling in SEO?
There are an incredible number of new website pages being added to Google each day. Since no central database for these webpages exists, Google constantly searches the world wide web to discover new pages.
Once it discovers a new page URL, it 'crawls' this new page to unearth what the new page is about.
What this means is that the first step for SEO is to ensure your website and its webpages are crawlable.
Fortunately, there's an easy test to achieve this.
Just go to Google, enter "site:" then type your website or the URL for your new webpage in the search box. If it shows up underneath, it's crawlable.
Here's an example: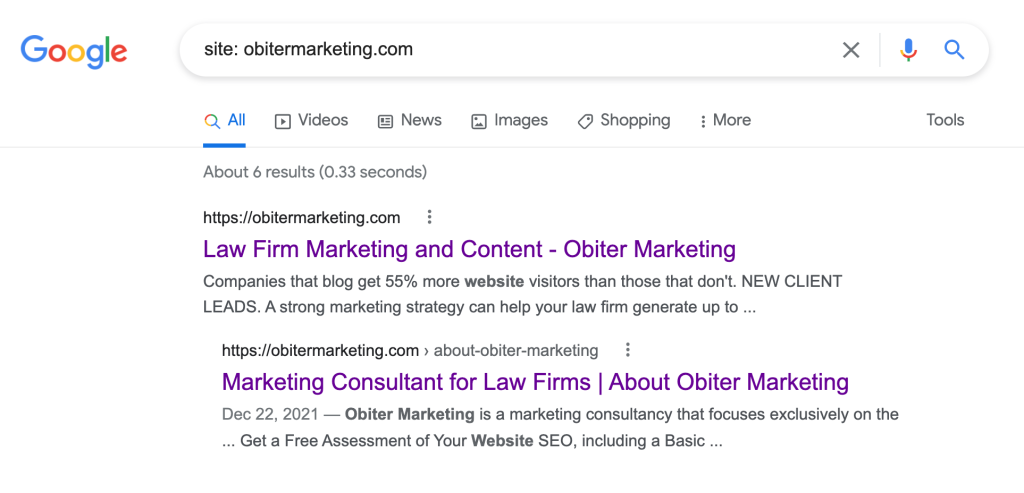 What is Indexing in SEO for law firms?
Indexing refers to the process of a search engine searching a particular webpage to work out what the content on the page is about. During this process, the search engine considers the words used on the page – and the context of those words (as much as it is possible for it to do so). It also considers the images and videos used on the webpage too, again as much as it is possible for it to do so.
At this point, the following features are very important to your SEO:
Your H1 Header.
Your H2 Headers.
The volume and spacing of your keywords.
Here's what Google recommends to improve your page indexing:
What is Serving & Ranking in SEO?
In SEO, serving refers to the results a search engine delivers an internet user when that person types a query into the search bar. Basically, the search engine is 'serving' you answers to your query.
To achieve this, it ranks the available pages that it has previously crawled based on the value it determines the pages will bring to the user. There are a significant number of factors considered at this point. So, SEO specialists and marketers tend to rely on SEO best practices and competitor analysis to determine what your law firm will need to do to improve its rankings.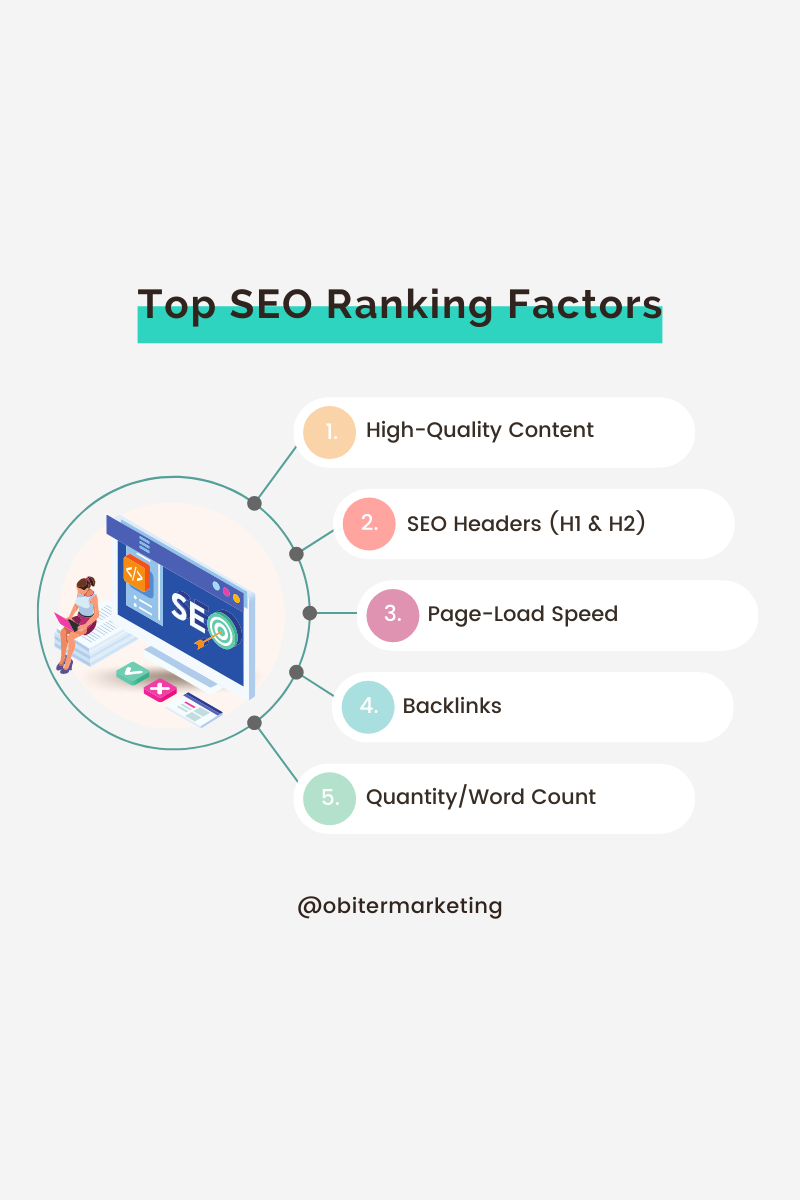 SEO Basics for Law Firms: Best Practices
This is a detailed summary of some of the SEO Best Practices we've learned through both experience and by keeping up with Google's detailed release notes on SEO. They are:
Develop accurate and unique page titles.
Use a meta description for every indexed webpage on your website.
Relevant heading tags should break up your text.
Target just one keyword or keyphrase per page.
Generate meaningful and simple URLs for your webpages.
Publish high-quality, compelling content.
Now, in more detail:
Develop accurate, unique page titles.
Every page on your website will have a page title. Each of these page titles should be unique and it should accurately reflect the content of that page. Ideally, it should contain the keywords you've elected to target
For my website's home page, I've selected the page title "Strategic Law Firm Marketing and Content | Obiter Marketing". It accurately reflects what my business does and includes my business name.
Importantly, it's also between 55-65 characters (including spaces), which is current best practice.
Tools to use to check law firm website page titles:
Ubersuggest's Site Audit will let you know if you have any duplicate page titles (that is, page titles that aren't unique).
Yoast SEO will let you know if the keyword you're using in your page title has been targeted elsewhere on your website.
For more information, read Google's document about Title Links.
Use a meta description for every indexed webpage on your website.
A meta description is a HTML tag that can be up to 155 characters that essentially summarises the content on the webpage for search engines and readers. While you may not be familiar with the phrase, you will likely be familiar with the appearance of meta descriptions.
You'll see the meta descriptions for the below pages in the boxed text: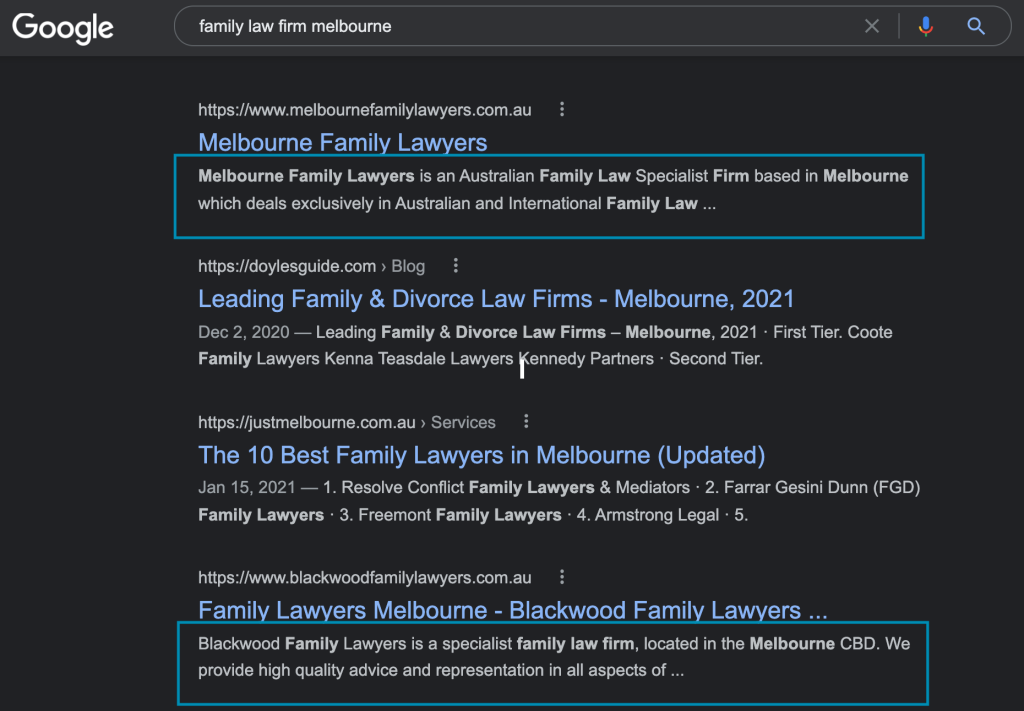 Your meta description should contain the keyword your webpage is targeting as well as a brief summary of the page content. If you do not create a meta description for your website, it will be generated automatically. This automated meta description generally won't conform to best practices.
To determine whether your page currently has optimised meta descriptions, you can use the free MozBar extension tool. This tool provides key insights into what SEO is going on behind the scenes: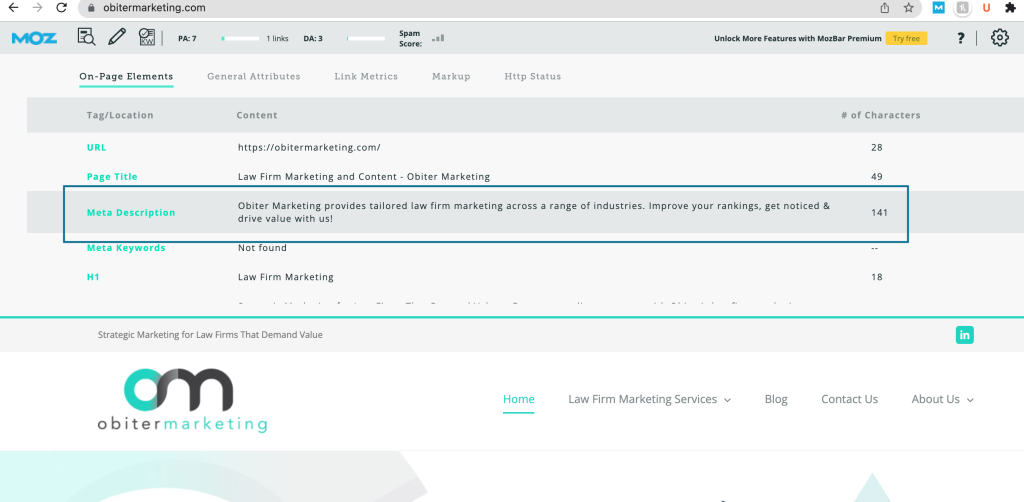 If you have a WordPress website, you can use the free plugin Yoast SEO to insert your meta description. The tool will provide a space for the meta description and will also let you know if it's too long, too short, or doesn't contain the keyword you're targeting on the page.
Relevant heading tags should break up your text.
Heading tags (also known as header tags) are used to separate text paragraphs and ideas on a webpage. They perform two functions, namely:
The text is skimmable for users (and therefore make the content more user-friendly).
The search engine is alerted to the order of importance of particular headers. You can rank headers from H1 to H6.
Here's how to use header tags in SEO:
H1 Header Tags
The H1 tag is used for the page title. It's a critical SEO feature that is used by the search engine bots to determine what the page is about (on the whole). The optimal length for a H1 tag is between 55-60 characters, including spaces. It should also contain one target keyword.
H2 Header Tags
H2 header tags can be thought of as the 'chapters' of your content. In this post, for instance, all the H2 headers can be found in our table of contents at the beginning of this piece. You should endeavour to have your target keyword or similar keywords in about 50% – 75% of your H2 headers.
H3 Header Tags
You should use your H3 header tags for the main ideas under each 'chapter divider' or H2 tag. For instance, if you were writing a short blog post about the '5 Things To Do Before Filing for Divorce':
Your H1 would be the title;
The H2 might be 'Do These 5 Things Before Filing For Divorce'; and
The H3 headers should outline the 5 things you're proposing the reader do.
H4, H5, and H6 Header Tags
You can use these headers to further organise your page, however, they wouldn't always contain your targeted keyword. In fact, the content underneath them may be ancillary or additional content. For instance, our explanations of what function each of the header tags performs in this blog post is a H4. We could have drafted this post and answered the query posed in the page title (H1) without that information. However, it is beneficial for our readers to find the information here, so it's included under a H4.
Create simple, meaningful URLs for your webpages.
The URL, short for the Universal Resource Locator, is essentially what one would type into Google to arrive directly on a webpage.
For instance:
You should create short, meaningful URLs – with, ideally, fewer than 74 characters.
Here's a law firm-specific example:
https://altrialaw.com/migration-law/family-visa/partner-visa/visa-100/
This is a strong URL because it contains essential information for search engines. It contains keywords including 'migration-law', 'family-visa', 'partner-visa', and 'visa-100'. It is 70 characters long.
Publish high-quality, compelling content.
Google asserts that "Creating compelling and useful content will likely influence your website more than any of the other factors discussed here" (here being in the Google SEO Starter Guide). There are two reasons for this:
Users will likely spend a longer time reading high-quality content (and it's widely considered that the time users spend looking at your page increases your rankings on Google); and
Other websites are more likely to link back to your website if the calibre of the content is high. Where a website links to yours, a backlink is created. Backlinks are very important to your rankings on Google, and play a role in your rankings on other search engines too, although they are possibly given less weight.
Beyond this, the basics for good writing can go a long way too. You should avoid:
Spelling and grammatical mistakes.
Awkward content (typically caused by trying to stuff keywords onto the page).
Large volumes of text without subheadings. Best practices suggest you should have a header at least every 300 words.
Duplicating content in various places across your website – or only slightly changing content when you duplicate it.
Linking to low-quality websites.
Providing links by saying "click here".
The amount of content you provide is also relevant here. The 'perfect' amount of content varies depending on the competition for rankings in your area, amongst other factors. But, generally, blog posts with more than 2,000 words will perform better over time (attracting more leads) than shorter posts.
Ensure Your Website is Optimised for Mobile Phones
What is Mobile Responsiveness?
Mobile responsiveness refers to websites that are designed to automatically adjust to fit different mobile, tablet, and desktop devices. Even screens that appear to be the same size can have different resolutions, and it is the screen resolution (rather than the physical screen size) that mobile responsive websites must adjust to.
For example, iPads may be the same physical size but can have slightly different screen resolutions depending on each generation and whether the device has a 'retina' screen. A mobile responsive site will look good across all devices and resolutions.
What is a Responsive Checker tool?
This Responsive Checker tool lets you preview your site on different devices, including popular mobile and tablet devices, as well as custom resolutions.
View Website Planet Mobile Responsiveness Checker
Poor SEO Practices to Avoid (at all costs)
In mastering SEO basics for law firms, it's also important to know what not to do with your website.
Whatever you do, do not engage in any of these behaviours designed to 'trick' search engines into ranking your website. You may be rewarded in the (very) short term, but you'll certainly be penalised in the long term. These tactics are never worth it:
Buying backlinks from spammy sites.
Copying content from another page and publishing it on your own.
Keyword stuffing, which involves putting lots of a certain, usually irrelevant keyword onto a page.
Publishing irrelevant content to a page to increase the word count.
Inserting keywords in such a manner that they are visible to the search engine but not the user. This would include placing white-text keywords in the white space on your website.
Free Tools to Improve Your Law Firm Website's SEO
Here are some free tools you can use to master SEO basics for law firms:
Technical & Monitoring Tools
Google's Mobile-Friendly Test – This helps you determine whether your website is Mobile-Friendly. Given the volume of searches that are conducted on mobile phones and tablets each day, you'll be penalised by both search engines and potential clients if your website isn't mobile friendly. Speak with your developer to ensure yours is! (Or ask us, we know quite a few phenomenal developers).
Google Search Console – This free tool monitors and helps you troubleshoot indexing, spam, and other issues on your website.
Screaming Frog – Screaming Frog SEO Spider crawls your website looking for issues with your SEO. It provides detailed reporting on any issues it finds.
Tools for Keywords and Content Ideas
The MozBar Extension – The MozBar extension is an incredible free tool that we use every day. For individual websites, it provides key insights into the SEO that has gone into any individual page on a website. It also provides information about each website as a whole whenever you conduct a search via Google.
Ubersuggest – The free version of Ubersuggest offers incredibly valuable insights about keyword competition, while also making it easier to analyse and assess your competitor's websites. It has a site audit function that's also incredibly useful for picking up SEO errors that are (usually) quite easy to fix.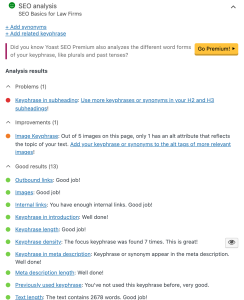 Answer the Public – This site helps you generate questions to answer within your content based on common questions related to your search query. It's a quirky website but the results are fantastic.
SEMRush – SEMRush is a reputable all-in-one research tool for marketers. A free account grants limited access to the available tools. (Limited access is most likely sufficient for law firms looking to improve their website and blogging).
Other helpful tools
Google My Business – This is used by Google to assess and rank local results.
Yoast SEO (a plugin for WordPress websites) – Once installed, Yoast SEO appears on your website pages when you edit them. It's easy to use and easy to understand, explaining the effectiveness of your SEO efforts with smiley face emojis that are red for poor, orange for okay, and green for good.
Need Assistance with SEO for Your Law Firm Website?
SEO can seem overwhelming, especially when it isn't your bread and butter. If you've read our detailed description of the SEO basics for law firms and need some additional pointers, follow us on Instagram or reach out to us for a free website assessment. Our free website assessment provides a brief overview of your current position, a basic competitor analysis, and some suggestions to bring your website in line with our best practices.