Social media marketing was the most commonly used marketing tool for businesses in 2021 (across all industries). For immigration lawyers and migration consultants, it can increase your visibility and your credibility, while helping build trust with potential clients in almost any location. But social media marketing is also difficult to get right. And it can be difficult to remain motivated to continually put effort into your accounts year-round. In this comprehensive guide, we've outlined 12 key tips that will help you improve your immigration consultancy's social media presence. To top it off, we've created a 7-post-per-week template that helps address the motivation side of DIY social media marketing. With solid ideas in hand, all you need to do is write a few sentences and hit publish whenever you make time for it.
Why should immigration lawyers and migration consultants use social media to market their business?
There are several reasons that immigration lawyers and migration consultants should use social media marketing:
It flags your business as a legitimate business in an industry that's rife with scam providers.
A strong, legitimate social presence reassures anyone considering your business that you are a real company and you're not about to take their money and run (like this company) – but only if it's done correctly. If you haven't posted or responded to comments in months or years or your account is poorly set up and looks a little, well, 'scammy', your social media presence will reduce trust in your business and hurt your chances of attracting potential clients.
Quick Tip: Educate your viewers about checking the local database for licensed immigration services providers. (For example, you can share the IRCC's page "Find out if your representative is authorized: https://www.canada.ca/en/immigration-refugees-citizenship/services/immigration-citizenship-representative/choose/authorized.html"). Better still, educate your readers about verifying licensure and share a link to the page confirming your licensure.
You can reach audiences around the world with social media.
It provides additional opportunities for connections.
Social media gives your potential clients more opportunities to connect with you, sign up for your marketing emails, or learn more about your business. It's also a great place to connect informally and overcome some barriers clients face in approaching a new lawyer.
12 Social Media Tips for Immigration Lawyers and Migration Consultants
Know your audience (and choose social media platforms that make sense for your audience).
Knowing who you're marketing your services to is essential. For immigration lawyers and migration consultants, the answer may seem straightforward – hopeful immigrants. However, you're going to need to dig a bit deeper than this to achieve social media success! Generally, to define your target audience, you might consider (amongst other things):
Your ideal clients.
The client base you currently serve.
Who your competitors are targeting.
What stage of life your pricing would be suited to.
The languages you speak.
Your current network and referral partners, and their audiences.
Demographics based on your Google Analytics data.
How you plan on delivering your services (for instance, if you require someone to visit your office, you should target local audiences, whereas if you're happy to serve your client base entirely online, you can target a broader geographic audience).
Which social media platform makes sense for your audience?
Different audiences prefer different social media platforms. Facebook and Instagram, for instance, are the preferred social media platforms for 25- to 35-year-olds, while Twitter attracts those who are 30-50 and LinkedIn is used most often by those between 46-55. Pinterest can be used to target a higher percentage of female viewers, while Snap Chat appeals to a wide range of viewers between the ages of 13 and 35.
You can compare these demographics to your target audience to inform where you're going to target your efforts!
Your social media account should be complete, trustworthy, and represent your brand.
You will only reap the benefits of social media marketing if your viewers and followers aren't deterred from spending time on your page. To achieve success here, there are several things to avoid and several things you must do.
Features that may reduce trust in your page/Things to avoid:
Incomplete pages can look fake.
Pages with posts that have spammy comments (like those from fake accounts advertising their crypto or Forex success).
Pages with inconsistent branding (colours, tone, etc) can make your business seem disorganised or like it is outsourcing to low quality providers.
Things you must have on your page to build trust and credibility:
Your business location.
Positive reviews and testimonials from clients.
Contact details for your business.
Links to your website.
Consistent branding.
Regular or semi-regular posts – at twice per month to let followers know you're still open, but a more active presence online leads to better marketing outcomes).
Professional photos of yourself and, ideally, your team.
Photo updates of yourself and your team at work (these don't need to be professional or curated).
Allowing instant messaging can increase trust and credibility so long as you respond to the messages in a timely manner. If you can't commit to regularly responding within 24 hours, you're best turning that functionality off and asking followers to email you instead.
You can pre-publish posts (so they are published in the future).
This functionality is a gamechanger! Some social media platforms allow you to schedule posts to be published at a future date. This means you can prepare a week's worth of content (or longer) in one session and set them to be published at various dates and times in the future. The tools you need to use (and possibly pay for) will vary depending on which social media platforms you use for your immigration lawyer or migration agent business.
Facebook and Instagram
If you elect to use Meta's Creator Studio for Instagram and Facebook:
You can schedule posts here: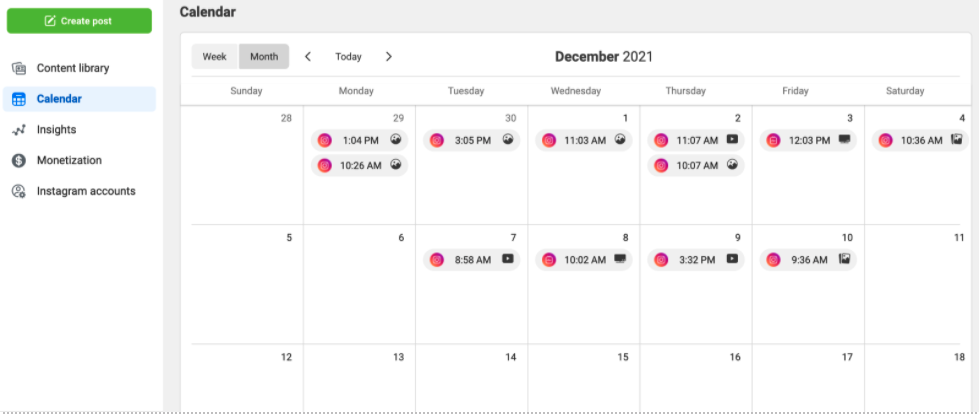 You can pre-publish content using the green 'Create New' button in the dashboard. From there, you can also navigate to the calender, pictured above. You can then view all your posts on a monthly calendar to ensure they're scheduled correctly and content is being regularly distributed.
Twitter
You can find out how business profiles on Twitter can schedule posts here: https://business.twitter.com/en/help/campaign-editing-and-optimization/scheduled-tweets.html
LinkedIn
You will need to use third-party tools to pre-publish or schedule posts on LinkedIn. The most popular tools that allow you to do this are Buffer, Sprout Social, Hootsuite, Loomly, Khoros, and Salesforce. Some of these have free accounts with paid options for enhanced functionality. The paid functionality often includes content ideas, advanced analytics and easy-to-digest reports, the ability to create teams (with multiple users), and fewer limits placed on the number of posts you can schedule or the number of accounts you can link.
Community building is one of the most powerful things you can achieve on social media.
People don't go on social media to be advertised to. They go there to find relevant news, share their thoughts, celebrate achievements, and find communities they jive with. Tapping into their quest for community empowers you to advertise quietly without coming across as being very 'salesy'.
There are two ways you can do this:
Run your page so it encourages a sense of community. To do this, you can encourage your followers to share their experiences (either anonymously or in the comments) and generally take a nurturing approach to responding and running the page.
Create a group that links to your page and that 'targets' a certain demographic. The Irish and Applying for PR in Canada group is a phenomenal example of such a community. While this page isn't linked to any particular migration agency, yours can be. From there, occasionally drop tips or comment where you can provide value and encourage members to book appointments. Try to come across as concerned, not salesy in your approach to your community. Oh – And set it to 'private'. This requires members to join your group to see the activity, which can help you weed out other migration agents looking to reap the benefits of your hard work.
Share important immigration information with your social media followers in a timely manner.
As we outlined in the point above, more and more people are heading to their social media accounts every day to find news. By sharing important updates with your followers in a timely manner, your immigration business can become a preferred source of this news for hopeful migrants.
Here are a few tips for sharing news updates with your followers:
Try not to use jargon or immigration-related acronyms, but if you do use them, explain them in every post.
Don't assume all your followers see every post and don't assume new viewers will go back and view your other content. Each post needs to make sense in insolation.
Make your news stand out by creating branded visuals:
Try to manage at least one of your immigration law firm's social media platforms well.
There are some social media marketers who will refuse to work on platforms they don't feel fit for a brand. Others take the 'any publicity is good publicity' approach and advise businesses to publish content across any and all platforms that suit their preferred visual media. We're going to sit on the fence here and suggest that the social media marketing strategy that works for your business will be different to what works for others and there's no right answer for all immigration consultants.
BUT! If you opt to share the same content across all your social media accounts, ensure you're following best practices for at least one of the platforms. That is – make sure you're doing at least one of the platforms well.
We aren't going to comprehensively cover how to succeed on every platform in this article. Generally though, we'd recommend that you stick with platforms you're familiar with if you're tight on time and planning to DIY your social media marketing. Teaching yourself a new platform will take time and refining your approach to it will take even more. By focusing on platforms you already know, you'll face fewer obstacles to getting your posts planned and in publishable form.
Feel free to reach out to us on social media if you have any specific questions about best practices!
Learn a little about how the algorithm works.
You don't need to become an expert about social media algorithms to achieve your version of social media success, but it's worth knowing a few tips and tricks to 'hack' the system and improve your posts' reach.
Quick tips for increasing the distribution of social media posts for immigration lawyers or migration consultants:
Here are some fast facts about how your post's structure and features impact its visibility and reach (where reach is the number of people who may see it):
Content shared on personal accounts tend to get increased distribution (but you don't have access to any analytics or data for posts shared on personal accounts). You can opt to share posts you publish on your business page via your personal page to increase its visibility.
Share a relevant image with the content, no matter which platform you use. Generally speaking, posts with relevant visuals tend to perform better.
Sharing links to relevant content (including your blog posts) can help to increase distribution too. But don't just hit share on relevant content and think you've done your job. You should provide your thoughts and unique insights into what you're sharing.
Harness the power of stories to share your content with a wider audience.
Don't be shy – give your posts a like from your personal account, and don't be afraid to ask loved ones or team members to do the same.
If you're sharing a key update that you think will really garner attention (whether it's a sale, or a crucial change relevant to most of your followers), put some money behind the post. Instagram and Facebook let you 'boost' a post for a few dollars. Doing so can result in potentially thousands more people seeing it.
Include a call to action (CTA) in your immigration law firm's social media posts.
Depending on how often you're posting on social media you will want to include a call to action (CTA) in most or all of your posts. Just try to balance including CTAs and coming off way too salesy (which doesn't always translate well on social media, in our experience).
Feel free to mix this up, since it allows you to hit potential clients at different points along your marketing funnel. Here are a few CTAs that work for immigration lawyers and migration consultants:
Ask viewers to subscribe to your email list in posts sharing key updates.
Encourage your followers/viewers to ask questions in the comments, since this gives insights into what your audience wants and helps generate ideas for future posts.
Suggest viewers make an appointment or send you an email or other digital communication if a certain event or update impacts them. You should make this easy for them by adding buttons or links that let them get in touch easily. Most social media platforms will let you add bookings, set up chat functionality, link to your website or click to call directly within the app or browser. If possible, it's best to take advantage of these features.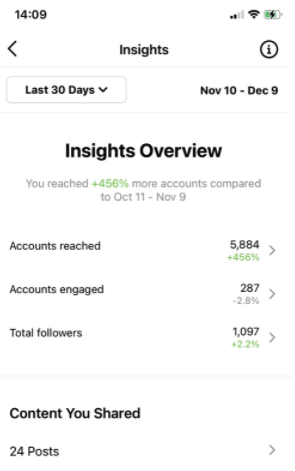 Monitor your results.
Fortunately, the insights are presented in a way that's relatively easy to understand – so you don't need to supplement your immigration provider licensure with a master's degree in statistical analysis.
Understand that social media marketing success takes time.
Businesses typically need to regularly post on a social media platform for 12 months before seeing real results. If you want an 'instant fix' social media is not for you (unless you're willing to spend money on ads). However, the stats don't lie:
of companies use data from social media to inform business decisions.
of business executives think allocating resources to social media is important or very important.
of consumers are likely to buy from a business following a positive interaction with it on social media.
Recognise the role that social media plays in your overall marketing strategy.
The reality is that you likely aren't going to make your millions relying on the results of your immigration consultancy's social media accounts alone. Instead, these platforms will form part of an overall marketing strategy – and they should have resources applied to them in accordance with this role.
More often than not, your social media accounts will be a tool to improve credibility and trust for your business. Secondarily, it may help you to source clients – particularly if you're willing to pay for advertising on the platforms you use. Thirdly, your social media content can deliver additional value. Clients (and potential clients) love brands that deliver value-added services. By providing 'value' to your followers via your social media posts, you can increase the perceived total value of the services you deliver. Blogging is also a key tool for achieving this.
Need More Help Navigating Social Media as an Immigration Lawyer or Migration Consultant? Ask Us
Shoot us an email or book a time to speak with us if you'd like us to assess your social media strategy.
Finally, as promised, we have prepared a free template social media content calendar for immigration lawyers and immigration consultants. While there's no cost involved, we do ask for your email address in exchange for the template. In the weeks following your download of the social media calendar, we'll reach out to see if you have any questions and ask if you need any further clarity or assistance. There's no obligation to sign on, or even respond – but we are available to help.
Not an immigration agency? We aren't quite ready to field questions about strategy for you… yet. We firmly believe in the power of specialisation, and we haven't branched out from immigration yet. Feel free to send us an email outlining your practice area and we'll get in touch if we get involved in your area.