Digital or 'Online' Marketing is increasingly important for law firm firms. It helps law firms get noticed and grow. And it can also position the law firm to attract and retain lawyers and legal professionals. However, it's not enough to simply throw some money at online marketing any time you need new clients and assume you've successfully marketed your law firm. Your law firm's marketing efforts should be strategic – and that starts with establishing a marketing budget. (Note: we're focusing on small law firm marketing budgets in this post!).
How Much Do Small Law Firms Spend on Marketing in 2022?
Precise figures about how much small law firms spend on marketing are hard to find. This is (at least in part) due to the fact that most small law firms do not have a marketing budget.
The American Bar Association's annual survey reveals that law firms (or at least those based in the US) are not adopting strategic marketing based on planning and law firm marketing budgets.
In fact, their 2021 figures highlight:
Just 7% of solo lawyers have a marketing budget.

35% of responding firms with 2-9 lawyers have a marketing budget.

Only 55% of law firms with 10-49 lawyers have a marketing budget.

Large law firms, with 100+ lawyers, typically do have a marketing budget – with 84% of these firms indicating they have an annual budget.
These figures show an increase in the number of small firms adopting marketing budgets. In 2020, 32% of firms with 2-9 lawyers had a marketing budget. However, the number of solos and firms with 10-49 lawyers that had a marketing budget decreased in 2021.
Average Small Firm Marketing Budget
Since legal industry-specific figures haven't been published, we've relied on average marketing budgets for small businesses.
Generally, B2B companies spend 2-5% of their total revenue on marketing. Meanwhile, B2C companies spend a higher percentage of their revenue – averaging between 5-10%.
For Canadian small businesses, this averages out to around $30,000 annually. While mid-sized businesses with 20-49 employees spend around $60,000 per year.
It's important to note that there is no one-size-fits-all approach to marketing budgets for small law firms (or any business). It's always going to be a matter of experimenting to see what works for you, with your starting point being based on educated guesses that reflect the competition.
The Cost of Marketing with Obiter
Most clients spend around $1,000-$2,500 with Obiter Marketing each month and achieve their content marketing goals with this amount. We've found this amount to be quite sustainable for the firms we work with – and most of them have been with us for a number of years.
Based on the averages outlined above, these law firms *should* be earning revenue of around $20,000 per month before committing that amount to online marketing monthly. (We have not asked our clients about their revenue.)
How Much Time Does it Take To Market a Small Law Firm?
A US-based Lawyer Coach suggests that you'll need to dedicate 4 hours per week to marketing if you'd like to grow your small business by 15-20% in one year. 
You might spend those four hours:
Creating and scheduling 3-5 social media posts (1-2 hours).

Drafting, reviewing, and publishing a short blog post (2.5 hours).

Responding to social media comments and enquiries about services (.5 hours).
While we can't guarantee your business will grow by 15-20% by engaging in those marketing activities each week, it would form a solid basis for a small law firm's marketing strategy.
However, those tasks are unbillable – and if you're a sole practitioner, you may need to work long hours to get through your client work and your marketing. So, you'll need to consider the point at which the cost of your time becomes greater than the cost of outsourcing the online marketing for your small law firm.
Factors that Impact a Small Law Firm Marketing Budget
In addition to the financial and time resources you have available to dedicate to marketing, you will need to consider the following factors to determine your small law firm's marketing budget:
Whether you're engaging in digital or traditional marketing (digital marketing tends to offer a better return on investment).

The level of competition;

Your practice area(s) (and whether you need to continually attract new clients or whether you can work to retain clients, too)

How established your firm is; and

Your existing branding and reputation.
Budgeting Based on Competitive Analysis
Most of the factors above relate to how competitive your local market is. To assess this, you'll need to engage in competitive analysis. To do this, you'll need to:
Identify your competitors. 
Research their marketing strategy.
Estimate their marketing budget. 
Analyze the effectiveness of their marketing strategy. 
With your budget in mind, develop a marketing strategy that will either outperform your competitors or differentiate your small law firm.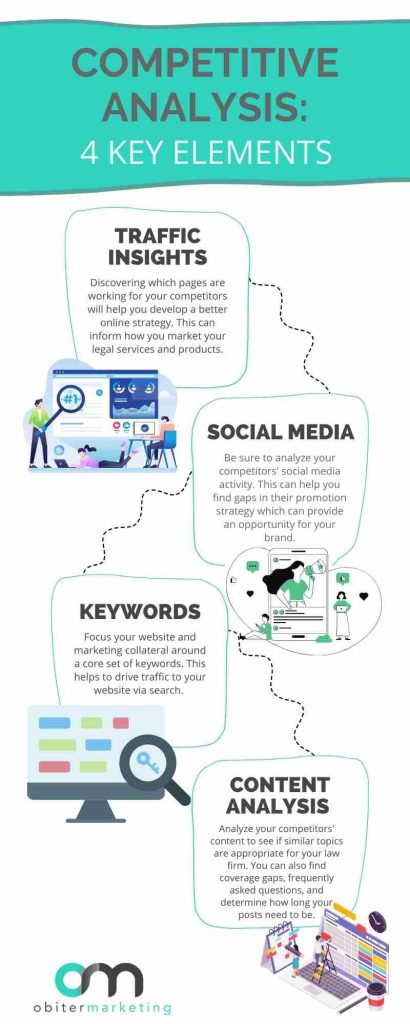 Budgeting for Client Acquisition vs Client Retention
In addition to how competitive your local market is, you will also need to consider whether you need to develop marketing collateral geared toward client retention, as opposed to client acquisition-specific marketing. Generally, retaining clients is a more cost-effective strategy, however, it's not always a realistic strategy for law firms.
When you develop your small law firm's marketing budget, it's important to consider whether you'll be engaging in client acquisition marketing or client retention marketing, or both. If you're engaging in both, you should allocate a portion of your budget to each type. The allocation amounts should be documented.
What Goes Into A Small Law Firm Marketing Budget
Your law firm's marketing budget and strategy will need to consider the following digital marketing media:
Law Firm Website Design and Development
Your law firm needs a website if you want to be discovered online – it's that simple. A good website will field common questions, build trust and rapport, represent your law firm's brand, and provide essential information for potential clients.
Budgeting for Your Website
Law firm website design and development can cost anywhere from $2,000 to $50,000+ (the sky is the limit!). Then, you'll need to consider annual costs, such as:
Hosting and support – $500+ annually.
Website maintenance – $500+ annually.
Domain renewals – $20+ annually.
Website improvements – $500+ annually.
Ongoing website expansion:-
Many law firms adopt a set-and-forget approach to their website, but this isn't always a good idea. Depending on the competitiveness of your local market, it's likely going to be beneficial to gradually add pages to your website (in addition to your blog, if you have one).
We've discussed the anatomy of the best law firm websites and the importance of subpages for your law firm services in other blog posts. Feel free to check those out for more information on this topic. But suffice it to say that it's a good practice to allocate $150+ for website content at least every two months – and potentially more often if your market is competitive.
Search Engine Optimization (SEO)
A great website will also have search engine optimisation (SEO) best practices implemented and a thoughtful mid-to-long-term SEO strategy.
Your SEO strategy should consider:
How to protect your rankings for keywords you presently rank for.
Which keywords to target in the future.
Where the keywords fit into your content strategy.
How you can develop backlinks to your website/blog.
It should also involve assessing and implementing SEO best practices, such as tailored meta descriptions and SEO Titles (which are SEO tactics you can implement using free tools on your WordPress website).
Cost of Search Engine Optimization
As with all strategic digital marketing, the cost of SEO will vary depending on the level of competition.
In a low-competition area, you could get away with basic SEO in the form of optimized blog posts and web pages as well as a content strategy. The cost of this may even be included in a monthly marketing package. Though, it is a good practice to allocate $250-$500 monthly to reporting and analysis.
For legal practices operating with higher competition, SEO can be a full-time job for multiple employees or consultants. Though, it's more likely that you'll need to allocate a budget between $250 and $1,500 monthly. (We know this is a broad range.)
Search engine optimization is fairly specialised and can take some time to wrap your head around. If you're looking to manage it yourself (in-house), basic training will go a long way. But be forewarned, it takes longer than you think!
Content Marketing for Law Firms
Content marketing for law firms involves creating and sharing content for free to attract people and businesses to your law firm. It has become an almost unavoidable marketing strategy in 2022. In fact, 66% of marketers expect their content marketing budget to increase more this year than in 2021.
What is content marketing for law firms?
Law firm content marketing, in broad terms, involves sharing written, visual, or video content for marketing purposes. Often, the content shared will be used to build trust, increase the overall value of services, or improve search visibility.
There are many different types of content that can be used to market law firms, so you're certain to be able to find a marketing medium that plays to your strengths and availability. Common examples of content marketing include:
Blogging for law firms
Podcasts
Ebooks
Whitepapers
Email newsletters
How much does content marketing for law firms cost?
Generally, both B2B and B2C businesses allocate approximately one third of their marketing budgets toward content marketing. However, with so many different types of content marketing available, the sky is the limit when it comes to costs.
For those small law firm owners looking for actual dollar values, here are some common content marketing strategies for small law firms – and how much they cost:
4 x Monthly Blog Posts
Publishing at a cadence of one blog post per week is an achievable strategy for most small law firms. This cadence is also likely to be a competitive strategy (though the results will vary depending on what other law firms near you are doing).
While the cost will vary depending on the length of the blog post, many small law firms competing locally in towns (not large cities) can get away with publishing one 700-800 word post per week.
Package 1:

$220 CAD/mo

One 700-800 word blog post/month

Package 2:

$440 CAD/mo

Two 700-800 word blog posts/month

Package 3:

$660 CAD/mo

Three 700-800 word blog posts/month

Package 4:

$880 CAD/mo

Four 700-800 word blog posts/month

Uploading to

your website,

including SEO.

Basic SEO

Basic SEO

Basic SEO and basic competitor analysis.

SEO and basic competitor analysis.

30 Minute Check-

In Each Month

SEO Impact and

Performance

Reporting

Basic reporting.

Detailed reporting.
Email Newsletters
Email marketing is an incredibly powerful marketing tool in 2022. In fact, current figures estimate that the average return on investment for email marketing is 32:1. That's $32 in return for every $1 spent.
Law firms typically send out email newsletters in one or two-week intervals, or once monthly.
Given that we can pull together an engaging email newsletter in as little as three hours, it's also a channel that demands less financial and time investment to yield results.
On average, law firms using Obiter to draft weekly email newsletters spend $200 CAD per week or $800-$1000 per month. Note, this pricing only includes drafting, it does not include design or the uploading and mailout process. We've found this is often best managed in-house by administrative team members.
Law firms that opt for once-monthly mailouts tend to spend around $450 (since the strategy is different for less-regular mailouts).
Content marketing is a long-term marketing strategy for law firms
One very important thing to note: content marketing is a long-term marketing strategy. It's not a good idea to simply publish a flurry of blogs when you set your website to live and then forget about it.
It can take upwards of six months to see results from any content marketing strategy for law firms. However, the results of content marketing tend to be powerful. Its effectiveness is why 90% of marketers who include content in their overall marketing strategy plan to continue to invest at least the same amount in 2022 as they did in 2021.
Social Media Marketing for Law Firms
Social media marketing for law firms is a form of content marketing, however, it really has taken on a life of its own in recent years so we're considering it separately in this coverage.
The costs for social media marketing depend (as per usual) on your goals and your competition. Many law firms will be able to get away with posting just once or twice per week, and can access benefits like increased trust and improved visibility from this posting schedule. A small law firm could typically expect costs of around $500 – $1000 per month for design, drafting captions, and scheduling 2-3 posts per week, as well as some strategy.
For those law firms and legal services providers operating in the immigration industry, it's more likely that you'll want to post 7 days per week. Costs for immigration lawyer's social media management would typically be closer to $2000 per month, or higher if some engagement is included too.
Paid Advertising
There are a host of options for small law firms looking to engage in paid advertising. Paid opportunities include paid PR media (as opposed to earned media), pay-per-click advertising, and paid ad placements in publications such as journals, newspapers, and directories.
The range of costs for paid advertising varies incredibly widely from a few dollars a day for a better profile on Yelp through to thousands of dollars for a single blog post placement in certain publications.
Due to the wide range of costs, we aren't able to provide a 'usual' range of costs for small law firms for paid advertising. This will be an internal strategic decision you'll need to make based on the financial resources you have available and the likely effectiveness of the paid ad.
Developing Your Small Law Firm Marketing Budget
When your marketing team has clear guidelines (and a clear budget), it's much easier to develop an impactful strategy. Your marketing budget should include both short-term and annual numbers to allow for better decision-making.
Short-Term Small Law Firm Marketing Budget
Your short-term budget should be granular, detailing exactly how much you're willing to spend on different types of advertising. Your budget should realistically reflect your goals. For instance, if you need to drive short-term sales, your budget may prioritize pay-per-click ads to get those sales started. Alternatively, if you presently have enough work, but you're looking to grow sustainably, your short-term strategy may focus on longer-term marketing strategies, like content marketing.
Annual Marketing Budget for Small Law Firms
Your long-term or annual marketing budget should reflect upon your existing marketing and offer ways to optimize it. Canada's BDC recommends following these five steps to develop an annual marketing budget:
Define your business strategy and marketing plan.
Determine your current marketing spend.
Measure the effectiveness of your spending.
Optimize your efforts.
Monitor the budget and adjust as necessary.
5 Best Practices for Developing a Small Law Firm Marketing Budget
Seek a quote from an experienced digital marketing consultant (following a competitor analysis) so you can estimate your costs.
Loop in your accountant and/or financial advisors when developing your budget.
Do not use marketing as an ad hoc or last-minute strategy. This drives up the costs of acquiring leads and isn't always effective.
Allocate a portion of your budget to tools. While outsourced marketing consultants will often provide some tools, your law firm should invest in additional marketing tools that directly relate to your goals. These tools might be a customer relationship management tool, an automated newsletter tool, or a social media scheduling tool, for instance.
The earlier you recognize the value of measuring your marketing, the more effective it will be. Whether it's measuring the amount of time you spend managing marketing in-house (so you know when it's more cost-effective to outsource) or tracking your marketing expenditure so you can optimize your budget, measuring your marketing makes a difference.
Want a link to a template tool for creating your small law firm's marketing budget? Get in touch.