July 2022 was an incredible month for one of our clients. With our help, they achieved astonishing social media growth:
9300% growth in followers on Instagram.
A 6333.33% increase in the number of profile views on Instagram.
A 3258.82% increase in impressions.
1000% increase in reach.
Depending on your experience with social media and analytics, those statistics may sound incredibly persuasive – or they may sound inflated (we assure you, they are true). Or, they may simply sound like they need more context – which is also true.
These statistics were pulled from a social media account that was only created in June 2022. The phenomenal growth in followers was due to the fact that the follower count jumped from 2 to 96. The impression count, reach, and profile views also increased markedly during July, since they were at essentially nil in June.
So, how do you analyze the data analytics for your law firm's social media? Read on to find out.
What Are Social Media Analytics?
Social media analytics involves collecting and analyzing data to measure the performance of your law firm's social media.
The metrics and your analysis will then usually form the basis of your short and long-term social media marketing strategies.
Common Social Media Analytics
Likes, comments, shares, and saves.
Number of followers.
Engagement.
Profile views.
Impressions and reach.
Website clicks, phone calls, or requests for directions.
The number of messages received.
The reason these are commonly collected and analyzed is that this information is easy to find and easy to compare to previous months. They provide quick and easy to understand insights that allow you to see whether your law firm's social media presence is growing. However, they aren't always valuable in determining whether your law firm's social media presence is helping you achieve your business goals.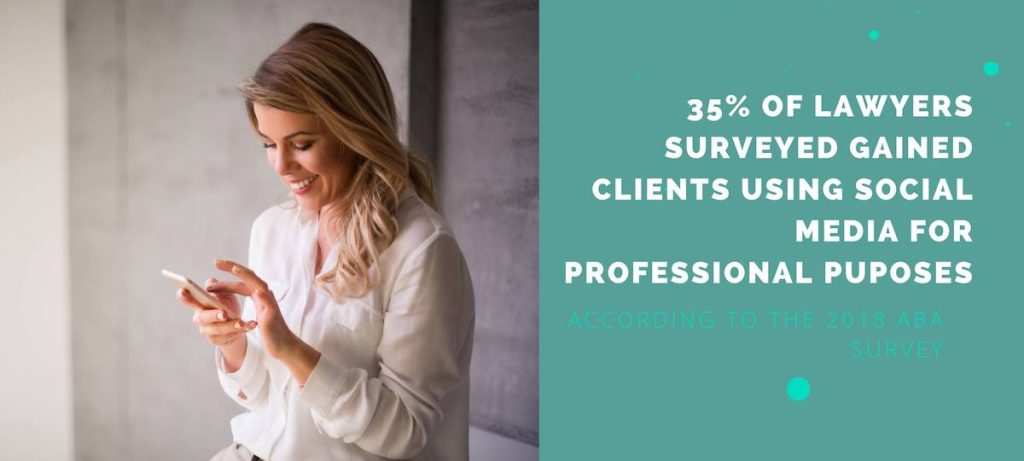 Linking Data Analytics for Law Firms to Social Media & Business Goals
It's important to consider how the data you collect and consider actually links to your business goals. Here's why:
You're a personal injury law firm in a city of around 300,000 people. You had around 120 followers on Instagram before you started regularly posting content. Your follower count has now ballooned to 2352 after a video you created went viral. You assume this means your social media marketing strategy is working.
Of course, having a higher follower count doesn't hurt. It flags you as a reputable provider (so long as your followers aren't obviously bots or bought and you keep the spammy comments in check).
However, there are questions that need to be answered before you can link your social media success to your business goals. For instance:
Are the followers local to your area and likely to actually engage your law firm if they need you? If not, your increased follower count won't have a direct impact on your client list.
Would you even be permitted to represent clients outside of your region if they did ask for your guidance?
Have you noticed an increase in requests for initial consults?
Has the increase in follower resulted in an increase in leads?
If your answer is no to those questions, then follower count may not be a relevant metric for your law firm.
Let's take a look at which metrics are relevant to certain business goals:
Data Analytics for Law Firms: Awareness Metrics on Social Media
Awareness metrics, such as those below, highlight how much attention your law firm's content is getting on social media:
Reach, or how many people/profiles see your content.
Impressions, or how many times your content is being seen.
Followers.
Audience growth rate (or new follower count), calculated as follows: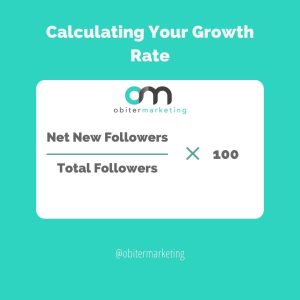 Linking Awareness Metrics to Business Goals
Awareness metrics help you assess brand awareness and can also provide insights into the perceived quality or value of the content your law firm is creating. The total number of followers you have, for instance, can help you to determine how widely known your law firm is.
Typically, you should assess the demographics and geography of your follower count (which you can do on certain platforms) to determine how 'relevant' your brand is to your actual audience. Instagram, for instance, will show you the top cities, top countries, age range and gender of your 'reached audience' if your content reaches more than 100 accounts in the given time period.
You can also use awareness metrics to benchmark your law firm's social media presence and performance against your competitors, instead of measuring growth rate as a standalone data point. This can help to ensure your law firm remains competitive, while also providing context for the data you're seeing.
Engagement Metrics on Social Media
Engagement metrics provide insights into how much time your audience spends looking at – or engaging – with the content you publish. Your law firm can use it to determine how relevant the content is to the audience, as well as the content quality. In essence, engagement metrics track the performance of your content.
Common engagement metrics on social media include:
Engagement rate.
Amplification rate, which considers the ratio of shares to the number of followers.
Traffic to your website.
Profile views.
Conversions.
Social media managers would typically use social media tools to measure these insights, since they are time consuming to track and calculate manually.
Linking Engagement Metrics to Your Law Firm's Goals
The types of business goals law firms can use engagement metrics to measure include reputation and brand management, website traffic and conversions, and community engagement.
Referrals Metrics
You will more than likely want to know how many clients you're getting from your social media presence. These are the metrics to measure and analyze if you want to measure your referrals:
Appointment bookings (particularly on Facebook).
Conversions (which you'll need to measure via Google Analytics or a similar tool).
Number of messages on the social platform.
It can also be helpful during the onboarding process to ask your clients where they came across your law firm. Ask them to check all boxes that are relevant, instead of asking them to choose just one. The buyer's journey is a journey – and you're missing valuable insights if you limit your clients to just one answer.
Other Tips for Analyzing Your Law Firm's Social Media Analytics
Consider these quick tips for assessing and analyzing your law firm's performance on social media:
Get in the habit of comparing data from one month to the next, as well as year-over-year.
Measure and record your competitors' performance for their public-facing data, such as follower count, likes, comments, and shares.
Identify your top performing posts and consider why they perform well. Then, create similar content and test it to see if it performs too.
Identify the types of content that aren't performing and consider why. This can help you to improve low-quality content or avoid irrelevant content.
Make notes whenever you run a 'test' or experiment.
Always measure and compare the 'number of posts' from month-over-month and year-over-year data. Ideally, you want to find the sweet spot of publishing 'the right' amount of content to meet your performance and business goals.
Data Analytics for Law Firms with Obiter Marketing
Obiter Marketing offers data analytics reporting for law firms for social media and website performance. We offer this as a standalone service to help you analyze and improve your internal efforts and as an add-on to our monthly social media marketing packages.
Ask us about how you can use data analytics to improve your law firm's social media marketing efforts.